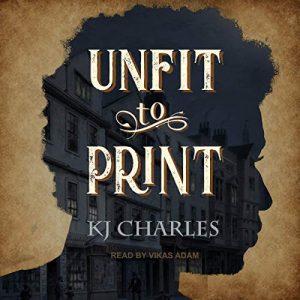 Why I read it:  One from my own TBL
Content Warning: Some depiction of prostitution for financial reasons.
What it's about: (from Goodreads)  When crusading lawyer Vikram Pandey sets out in search of a missing youth, his investigations take him to Holywell Street, London's most notorious address. He expects to find a disgraceful array of sordid bookshops. He doesn't expect one of them to be run by the long-lost friend whose disappearance and presumed death he's been mourning for thirteen years.
Gil Lawless became a Holywell Street bookseller for his own reasons, and he's damned if he's going to apologise or listen to moralising from anyone. Not even Vikram; not even if the once-beloved boy has grown into a man who makes his mouth water.
Now the upright lawyer and the illicit bookseller need to work together to track down the missing youth. And on the way, they may even learn if there's more than just memory and old affection binding them together…
What worked for me (and what didn't): It's often easier for a novella-length story to give me a believable HEA when the main characters already know each other. In this second chance romance (is it second chance when the first chance was when they were only 15 or 16? – let's go with it anyway, shall we?), Vikram and Gil both went to boarding school together. As the only boys of colour in their form, they shared a common bond which quickly grew into a devoted friendship, with some, er, teenage boy benefits. Vikram is the scion of a wealthy and privileged Indian family, Gil is the illegitimate son of a wealthy man and a Black housemaid. Gil was fortunate in that he was acknowledged by his father, who housed him and paid for his education. Vikram is a straight up and down type guy, Gil tends to gravitate to the gray areas and is more "street smart"  (my term); the latter used to help Vikram not be constantly beaten up at school (the white students not being happy with the idea that Vikram was at least their equal).

When Gil was 16, his father died and his half-brother Matthew booted him out with only ten pounds. He was forced to leave the school so suddenly, he wasn't even able to tell Vikram. For the following 13 years, Vikram mourned his friend; after looking for him as best he could, he believed Gil to be dead.
When Vikram, now a lawyer who specialises in assisting people who have little money or privilege, is asked to help locate a young Indian boy who has gone missing in London, he stumbles into the world of illicit literature – and into his old friend Gil.
Gil has recently come into possession of a shedload of pornographic photographs (not his usual stock in trade) and books – the collection of his recently-deceased half-brother. The family do not want anything to do with the collection and have asked Gil to dispose of it for them and help them avoid any potential scandal.
It seemed to me that Vikram was likely demisexual (although I might be reading in here). The way he came across to me was that he needed that emotional connection before sex was really a big deal for him. And, he had an emotional connection to Gil which hadn't waned in all those years.
Gil is more practical and, also a bit more bitter and twisted, after his experiences once he was kicked out of school and home. He spent some time living on the streets of London and has some personal experiences which align with the boy Vikram is looking for. He uses his sharp edges to protect himself from hurt, proclaiming that he only cares about himself and that no-one can hurt him. That's a lie of course. Vikram is able to get under his skin in ways no-one else ever could.
The mystery itself isn't terribly complicated – something which is benefited by the short length of the book – and in some ways ends up going in a completely different direction than suggested but mostly it is the vehicle to get Vikram and Gil spending time together and to loosen Vikram up and open Gil's emotions.
Sprinkled in among all that is what I'm sure is a very accurate depiction of the illicit print trade in London at the time – when being discovered with pornographic material could land one in prison, as well as some discussion of the lot of the poor and immigrant class and their struggles. It felt to me like there had been a lot of attention paid to getting the details right – although as a white person I'm not qualified to comment on the level of authenticity of the depiction of people of colour. I can only say it seemed like good representation to me but I'm not sure how much that's really worth.
It was quickly clear that Gil and Vikram had deep feelings for one another. Even though the story takes place in a short space of time, I had no trouble believing in the pair. I'm not entirely sure how they were going to manage their HEA but I had no doubt they would and they would be happy as it was possible to be in an age where being queer was illegal.
What else? The narration, by Vikas Adam, was very good. To Gil he gave a lower class London accent – in keeping with Gil's characterisation of someone who wanted nothing to do with his higher class family and as a way to thumb his nose at them and to Vikram he gave a stiff upper crust accent with just a hint of India in it. Not only did this work for the characters, it also made it really easy to tell who was talking. It wasn't just the accent either; the way each man is presented is different too. There's a different vibe to the performance depending on who's perspective we are in.

In addition to the main characters, there are various side players too, including some women and children. These were done particularly well.
To a very close listen, those with the right expertise could pick that Mr. Adam is not from Britain (he was born in Canada) but the accent was pretty darn good so I'm not going to complain about it.
More importantly, he imbued the performance with the sweetness of young love and the grit of the London streets and the mix was just right.
The opening chapter or so of Unfit to Print confused me a little, as it was the mechanism for Gil to take possession of the porn collection but after that, I got into the groove of the story and found, as expected from a KJ Charles book, a charming romance.
Grade: B+