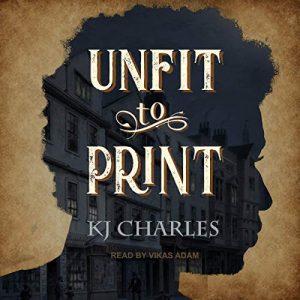 Why I read it:  One from my own TBL
Content Warning: Some depiction of prostitution for financial reasons.
What it's about: (from Goodreads)  When crusading lawyer Vikram Pandey sets out in search of a missing youth, his investigations take him to Holywell Street, London's most notorious address. He expects to find a disgraceful array of sordid bookshops. He doesn't expect one of them to be run by the long-lost friend whose disappearance and presumed death he's been mourning for thirteen years.
Gil Lawless became a Holywell Street bookseller for his own reasons, and he's damned if he's going to apologise or listen to moralising from anyone. Not even Vikram; not even if the once-beloved boy has grown into a man who makes his mouth water.
Now the upright lawyer and the illicit bookseller need to work together to track down the missing youth. And on the way, they may even learn if there's more than just memory and old affection binding them together…
What worked for me (and what didn't): It's often easier for a novella-length story to give me a believable HEA when the main characters already know each other. In this second chance romance (is it second chance when the first chance was when they were only 15 or 16? – let's go with it anyway, shall we?), Vikram and Gil both went to boarding school together. As the only boys of colour in their form, they shared a common bond which quickly grew into a devoted friendship, with some, er, teenage boy benefits. Vikram is the scion of a wealthy and privileged Indian family, Gil is the illegitimate son of a wealthy man and a Black housemaid. Gil was fortunate in that he was acknowledged by his father, who housed him and paid for his education. Vikram is a straight up and down type guy, Gil tends to gravitate to the gray areas and is more "street smart"  (my term); the latter used to help Vikram not be constantly beaten up at school (the white students not being happy with the idea that Vikram was at least their equal).

When Gil was 16, his father died and his half-brother Matthew booted him out with only ten pounds. He was forced to leave the school so suddenly, he wasn't even able to tell Vikram. For the following 13 years, Vikram mourned his friend; after looking for him as best he could, he believed Gil to be dead.