Monthly Mini Review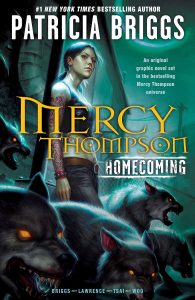 Mercy Thompson World – the epic re-read – I haven't quite finished it yet. I'm currently on Burn Bright and I will have to briefly backtrack for Unappreciated Gifts (a short story from A Fantasic Holiday Season which has just come in from my library) and for the graphic novel, Hopcross Jilly which just arrived today, and I don't have Fantastic Hope which has a brand new Asil short story in it as it's not available outside of the US at present but… I'm nearly through the entire series, short stories, graphic novels and all. After Burn Bright, there are only Storm Cursed and Smoke Bitten by way of full length novels.
I have loved revisiting this series. It has long been a favourite of mine but it is even more worthwhile to read the series in its entirety and close together. The world building is so dense and complex at this point it is easy to forget things. There were callbacks in Smoke Bitten (which I only recently listened to) from Moon Called. I had forgotten how Ben's character had evolved. I had forgotten, between reading Fire Touched and Silence Fallen, who Zack was. I had lost track of certain secondary and tertiary characters but now I feel like I have the whole picture. Also, once the events of Fair Game happened, the Mercyverse and the A&O world forever merged and it wasn't really possible to fully understand either series without having read both. Reading the books and most of the novellas in chronological order has been a massive boon for me. A couple of things have changed; I liked Fire Touched better the first time I read it and I liked Silence Fallen much better the second time and reading it so close to the other books. There's a reason these books are among my favourites. There's a reason I have all the audios and all the ebooks and many of the print books and all the graphic novels.
Not only has it given me life during lockdown, I've picked up all of these wonderful things I missed the first (or in some cases, second, third, or fifth) time around. Spending time with the cast of the Mercy Thompson world has felt like hanging with old and beloved friends.
BUY IT:
AMAZON     KOBO     BOOK DEPOSITORY
Coming Soon
on Audio
Reviews of these books will be up soon at AudioGals.
Links