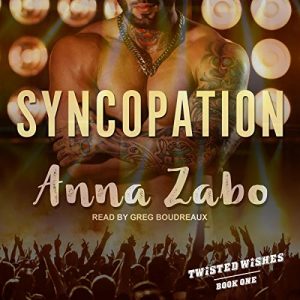 Why I read it:  This is one from my own TBL.
What it's about: (from Goodreads)  Twisted Wishes front man Ray Van Zeller is in one hell of a tight spot. After a heated confrontation with his bandmate goes viral, Ray is hit with a PR nightmare the fledgling band so doesn't need. But his problems only multiply when they snag a talented new drummer—insufferably sexy Zavier Demos, the high school crush Ray barely survived.
Zavier's kept a casual eye on Twisted Wishes for years, and lately, he likes what he sees. What he doesn't like is how out of control Ray seems—something Zavier's aching to correct after their first pulse-pounding encounter. If Ray's up for the challenge.
Despite the prospect of a glorious sexual encore, Ray is reluctant to trust Zavier with his band—or his heart. And Zavier has always had big dreams; this gig was supposed to be temporary. But touring together has opened their eyes to new passions and new possibilities, making them rethink their commitments, both to the band and to each other.
What worked for me (and what didn't): Syncopation is the first book in the Twisted Wishes series by Anna Zabo. Twisted Wishes are a rock band on the rise, but the story begins with the exit of their drummer, Kevin. The remaining members, lead singer Ray Van Zeller, lead guitarist Dominic Bradley (aka Domino Grinder) and bass player Mish Sullivan are suddenly in need of a new percussionist.
Zavier Demos is a Julliard-trained tympanist who had been playing with orchestras and touring the world. But after a BDSM relationship with the conductor of his previous orchestra went sour when Zavier didn't want romance, he's been effectively black-balled.  Zavier loves all kinds of music and has been following Ray's career in particular. Ray is just around 3 years younger than Zavier but they went to the same high school and, at one stage Ray asked Zavier to join his (at the time) garage band. Zavier declined, destined for Julliard and bigger things – or so he thought then. There was mutual attraction in high school but the age difference then was problematic – Ray was barely 16 so Zavier stayed far away.
Now, 10 years later, things are different. Zavier auditions for the drummer spot in the band so Twisted Wishes can complete their tour (they're supporting a more established band on a national concert tour) and blows Ray, Dominic and Mish away with his talent.
Zavier is a dominant and aromatic. He feels sexual attraction but he doesn't understand the hearts and flowers thing and he doesn't believe he can fall into romantic love. I admit I'm a little uncertain that I truly understand what aromantic actually is – it seemed to me that Zavier ended up loving Ray in a way that felt familiar; he just had a different label for his feelings and emotions. It worked for them and there is definitely a HEA. This is a romance audio after all so there is certainly romance in it – albeit non-traditional. Ray and Zavier end up in a committed relationship which makes them happy; I have no need to question it further. I'm no expert on what being aro is but I was happy to broaden my knowledge nonetheless.
Ray is very anxious and stressed. He takes on the worries and fears for not only himself but the rest of the band too. He is the leader and feels the weight of that responsibility. In a D/s relationship with Zavier (it takes some time to get to it but that's where they end up) he finds he is able to centre himself better and find control. His submission to Zavier enables Ray to be a better leader and to cope with his responsibilities without crashing.
The record label has supplied Twisted Wishes with a manager, Carl Roberts, and here I got a little confused. I still don't quite understand just why Carl hated Ray so much. He was on Ray's case all the time. Carl's behaviours and actions felt more like a plot device rather than organic. The other aspects of the book flowed much better and juxtaposed against the Carl subplot, it felt more obvious.
Fortunately, the budding relationship between Ray and Zavier, as well as the story of Twisted Wishes, their concert experiences and the way Zavier is enveloped with the rest of the band was the main thrust of the listen; that's where my enjoyment came from.
What else? I know from Anna Zabo themself (Anna is nonbinary and uses they/their pronouns) that they requested Greg Boudreaux to narrate the series and what an inspired choice it was. Greg is one of my favourite narrators and, as expected, he excels in Syncopation.
Greg gives all the main characters a distinctive sound which is more than just a tone or pitch. It includes aspects of their personalities, which only helps the listener to become more quickly immersed in the story.
Ray and Zavier don't jump into a sexual relationship. It takes a while for the two men to circle around one another and decide to go for it. Zavier is particularly dubious about whether he should start anything with Ray after what happened with the conductor. Zavier hasn't experienced acceptance of his aro identity before and doesn't anticipate that Ray will understand it or be content with it. When the sex does start though, it is plentiful and plenty kinky. This is not an audiobook I'd recommend playing with kids in the car for instance! Greg Boudreaux's narration of the scenes is as seemless as the rest of his performance and allows the growing emotional connection between the two men to shine through. Certainly the text shows clearly what Ray and Zavier each get out of the relationship (sex included) but the narration adds an extra layer.
I read Reverb, the third book in the series last year. It features Mish and David (who is a trans man) and I got to see a glimpse of Ray and Zavier in that book. I'm very glad to have finally read (with my ears!) their story now and I can't wait for Counterpoint to be released later this month on audio too so I can complete the trilogy.
Grade: B+