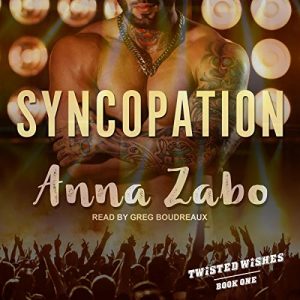 Why I read it:  This is one from my own TBL.
What it's about: (from Goodreads)  Twisted Wishes front man Ray Van Zeller is in one hell of a tight spot. After a heated confrontation with his bandmate goes viral, Ray is hit with a PR nightmare the fledgling band so doesn't need. But his problems only multiply when they snag a talented new drummer—insufferably sexy Zavier Demos, the high school crush Ray barely survived.
Zavier's kept a casual eye on Twisted Wishes for years, and lately, he likes what he sees. What he doesn't like is how out of control Ray seems—something Zavier's aching to correct after their first pulse-pounding encounter. If Ray's up for the challenge.
Despite the prospect of a glorious sexual encore, Ray is reluctant to trust Zavier with his band—or his heart. And Zavier has always had big dreams; this gig was supposed to be temporary. But touring together has opened their eyes to new passions and new possibilities, making them rethink their commitments, both to the band and to each other.
What worked for me (and what didn't): Syncopation is the first book in the Twisted Wishes series by Anna Zabo. Twisted Wishes are a rock band on the rise, but the story begins with the exit of their drummer, Kevin. The remaining members, lead singer Ray Van Zeller, lead guitarist Dominic Bradley (aka Domino Grinder) and bass player Mish Sullivan are suddenly in need of a new percussionist.
Zavier Demos is a Julliard-trained tympanist who had been playing with orchestras and touring the world. But after a BDSM relationship with the conductor of his previous orchestra went sour when Zavier didn't want romance, he's been effectively black-balled.  Zavier loves all kinds of music and has been following Ray's career in particular. Ray is just around 3 years younger than Zavier but they went to the same high school and, at one stage Ray asked Zavier to join his (at the time) garage band. Zavier declined, destined for Julliard and bigger things – or so he thought then. There was mutual attraction in high school but the age difference then was problematic – Ray was barely 16 so Zavier stayed far away.