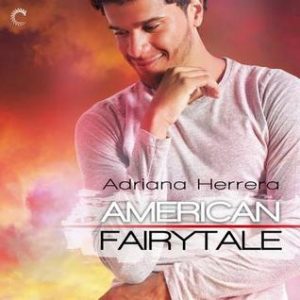 Why I read it:  This is one from my TBL.
What it's about: (from Goodreads)  Fairy-tale endings don't just happen; they have to be fought for.
New York City social worker Camilo Santiago Briggs grew up surrounded by survivors who taught him to never rely on anything you didn't earn yourself. He's always dreamed of his own happily-ever-after, but he lives in the real world. Men who seem too good to be true usually are. And Milo never ever mixes business with pleasure until the mysterious man he had an unforgettable hookup with turns out to be the wealthy donor behind his agency's new, next-level funding.
Thomas Hughes built a billion-dollar business from nothing: he knows what he wants and isn't shy about going after it. When the enthralling stranger who blew his mind at a black-tie gala reappears, Tom's more than ready to be his Prince Charming. Showering Milo with the very best of everything is how Tom shows his affection.
Trouble is, Milo's not interested in any of it. The only thing Milo wants is Tom.
Fairy-tale endings take work as well as love. For Milo, that means learning to let someone take care of him, for a change. And for Tom, it's figuring out that real love is the one thing you can't buy.
What worked for me (and what didn't):  I haven't yet listened to American Dreamer, the first book in the series (though I have it on my TBL now), however, American Fairytale, the second book in the series, stands alone well. Each book, features one of a group of four close friends, most of whom are gay/queer and living in New York. None are white.

There is a vibrancy to the writing, which illustrates the diversity in New York. There is a marked difference to American Fairytale as compared to the all-white (or almost-all-white) New York-set contemporary romance which is commonly available and it was both authentic and so much more interesting to me. It felt more like the real world and less like a construct and the characters showcased different experiences and points of view than my own white experience. I loved it.
Milo is a social worker working in a not-for-profit which runs shelters and programs for survivors of abuse and violence. Tom is a wealthy semi-retired former tech giant who donates money to the charity where Milo works. Tom, is the son of an American man and a woman from the Dominican Republic and was raised in the "DR" (as it is referred to in the book). Tom's friends also come from diverse backgrounds – the diversity was seemingly effortless but so present in the book. I enjoyed the sprinklings of Spanish and the references to food and culture from places like Cuba, the DR, India and Ethiopia (and more). The story was accessible, relatable, fun, sexy and romantic.
I love a single dad story as well – Tom was so wonderful with his daughter Libe (full name Liberte). Engaged dads are sexy AF. If four-year-old Libe was a little too perfect I couldn't find it in me to complain. She was adorable.
The essential conflict between Tom and Milo wasn't the working relationship and the risk to the charity and perhaps Milo's job if things went wrong between them. I was happy enough with that because it's not a conflict which interests me all that much right now – but I was glad matters were addressed. Milo went so far as to check the policy manual before getting further involved with Tom. While it could have been messy, Milo wasn't without thought or care about proceeding. It does skirt fairly close to the ethical line I guess but it doesn't cross it and Tom never attempted to use his position to threaten or intimidate Milo.In fact, once the characters start a relationship their work connection is barely touched upon and the story focuses mostly on their romantic arc. No, the conflict was (mainly) about money. Tom has a lot of it and Milo…doesn't. Also, Tom can be high-handed and Milo likes to be independent. I admit I was a shocked at what Tom did near the end and I was a bit surprised that he could have actually thought he was doing the right thing. He so wasn't. Milo was entirely right to be pissed. I liked how Tom has excellent "oh honey no" friends and how he began to realise what it was that Milo really needed from him.
I enjoyed the connection and chemistry between Tom and Milo and I believed in them as a couple. When money was taken out of the equation, they fit so well together. Both men see to the heart of the other. Being able to be themselves with no filters and still be accepted and loved was a draw and a reward of their relationship. Still, I could have used a little more about just how they were going to navigate their HEA, given Tom is mega-wealthy.
Tom's ex-husband Maxwell was more than an "evil ex" which I appreciated but I thought he was perhaps a little under-drawn as compared to other characters even so. That said, the broader cast were well fleshed out. I had the strong sense of them being complete characters with lives of their own outside the book.
What else? For the most part I enjoyed the narration by Sean Crisden a lot. However, he often spoke too fast, leaving insufficient gaps between sentences. Sometimes this meant that the emotion in the previous words wasn't left to sit with me for long enough to give them the weight they deserved. Other times it felt like Mr. Crisden was rushing. However, the emotion, character voices and accents (including the Spanish language snippets) were excellent.
I will definitely be gobbling up the other books in the series.
Grade: B+