Monthly Mini Review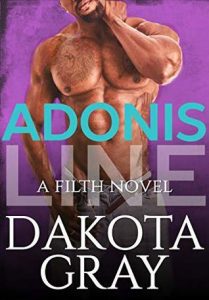 Adonis Line by Dakota Gray – B- I adored Perv when it first came out and have the other two books in the Filth series on my TBR but haven't managed to read them yet. Filth, the second book, is a retelling of Perv from the heroine's POV so I know I didn't miss anything truly important there, but I'm not sure how much of an impact having read Hardcore, the third book, before Adonis Line would have had on me. I think the books stand alone fairly well?
Tarek Hunter is the last in the trio of friends to find his HEA. He's a personal training and hiking enthusiast who takes folks out for wilderness treks on the side. Nina Williams wants to pursue a photography career but her preparation hasn't yet met luck. She wants to change that and plans to enter a photography competition, the prize for which is $20,000 – enough to fund rental on a photography studio and get her up and running. The only problem is that the photographs are of California wilderness at various waypoints. She's a city girl and needs a guide. Enter Tarek.
Nina has a history of domestic abuse and violence and is understandably wary of putting herself in the control of a strange man for two weeks and so does her research before even asking Tarek to help her. While I thought the DV aspect of the story was sensitively handled it may be triggering for some readers and caution is therefore advised.
I've said often that I am really bad at subtext. Here, I knew there was a lot going on beneath the surface but I wasn't able to pick up all the things and I spent a lot of the book with a kind of FOMO because I knew I was missing things. I don't know if anyone else has the experience of trying to peer behind the words or if that's just me but I did try a bit of that with this book. (It didn't help.) Perhaps there was a headspace I needed to be in to get the things I was missing? I don't know. What I do know is that I wasn't able to pick up all the gleanings and understand everything.
The plot itself isn't overly complicated or anything. It's just that I know there's a whole layer I didn't get/didn't get sufficiently well. It left me feeling a little lost at times. Because of my subtext-esia it's difficult for me to say whether it's a me thing or a book thing.
On the plus side, the sex was super hot, very creative, and absolutely fulfills the consent boner category of the Heaving Bosoms 2019 Reading Embrace challenge. I did think the DV aspect of the story was handled very well (even though I am no expert) and I appreciated there was no victim blaming. After some recent experience reading it done badly (very badly – Rain Dance by Catherine Gayle – avoid avoid avoid), this was especially welcomed.
The other thing I loved was the body positivity Nina had. Tarek is a built personal training with muscles on muscles, but she is not at all intimidated by that. Admiring and appreciative yes but not intimidated. She doesn't compare herself to him and find herself lacking. Tarek loves her body and finds her super hot and sexy. Nina is described as definitely not having a toned stomach (there are rolls) and a "generous" butt and large breasts. She doesn't wear baggy clothes – she's happy to show off what she's got and she rocks it. I love that.
Also, did I mention: super hot?
Coming Soon on Audio
Reviews of these books will be up soon at AudioGals.