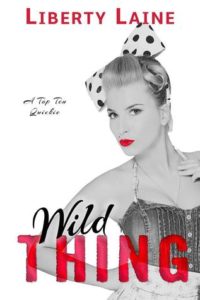 Why I read it:  One of my friends recommended it to me as a short fun read. Plus, it was only 99c.

What it's about: (from Goodreads)  I've waited my whole life to catch her. They call her a criminal. A con-woman. A thief and too wild for her own good. But me? I just call her mine. –Officer Nathan Trent.
He's one of the good guys. Honorable. Reliable. I've loved him since we were kids. But there's no way I'll let my wild ways tarnish his squeaky clean reputation. No matter how badly I wish he was mine. –Tillie Coletrain
What worked for me (and what didn't):  At just under 70 pages, Wild Thing is a short read. I knocked it over in one night without any trouble.

Tillie and Nathan have known each other since they were in high school. Nathan has had a thing for Tillie since they were 16 years old. The conceit of the story is that Nathan knew back then she was the one for him and he's been biding his time since then. (I may have rolled my eyes a bit at this.)  I realised that the story was over the top pretty fast and one has to just go with it really.
Tillie has a reputation as a bad girl, a bit of a con-woman but the reader learns quickly that it's all for a good cause (protecting her sister from the influence of their bad mother) and she's actually got a heart of gold.
I know it's hurting her, having to always give up what she wants. But I'm not gonna let her give us up. Tonight, I will finally do what I should have done a long time ago. Tonight, I fight for what's mine.

"…Then you agree that there is nowhere safer for you than with me. In my life, in my house, and in my bed. I won't let her pull you down anymore. I should have done this years ago, but you weren't ready.
Nathan gets all high-handed and bossy. Tillie is caught between outrage and desire.
I glare daggers at him because he's trying to use sex and flattery to make me agreeable, and I won't have it.
Their romance, once Nathan decides the time is 'now' moves at warp speed. I suppose it's unsurprising given the length of the book. And, at least the couple knew each other already. But even so, it was still a titch too fast for me.
It's been a dream come true, these past couple of days. I've spent so much time loving Nate from afar, never believing he'd love me as I am. This whole whirlwind romance seems surreal.
I hear you sister.
It's a dirty, insta-love-y kind of book. It's not pretending to be anything other than it is and it was worth my 99c and was a fun way to pass an evening. I'm not complaining.
Grade: B-

BUY IT: