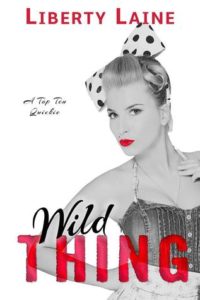 Why I read it:  One of my friends recommended it to me as a short fun read. Plus, it was only 99c.

What it's about: (from Goodreads)  I've waited my whole life to catch her. They call her a criminal. A con-woman. A thief and too wild for her own good. But me? I just call her mine. –Officer Nathan Trent.
He's one of the good guys. Honorable. Reliable. I've loved him since we were kids. But there's no way I'll let my wild ways tarnish his squeaky clean reputation. No matter how badly I wish he was mine. –Tillie Coletrain
What worked for me (and what didn't):  At just under 70 pages, Wild Thing is a short read. I knocked it over in one night without any trouble.

Tillie and Nathan have known each other since they were in high school. Nathan has had a thing for Tillie since they were 16 years old. The conceit of the story is that Nathan knew back then she was the one for him and he's been biding his time since then. (I may have rolled my eyes a bit at this.)  I realised that the story was over the top pretty fast and one has to just go with it really.