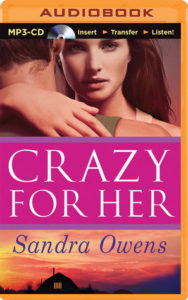 Why I read it:  I listened to Only Her (which I reviewed for AudioGals) recently and I really liked it. So I borrowed this one from my library.

What it's about: (from Goodreads)  When his best friend and fellow Navy SEAL, Evan Prescott, died in his arms on the battlefield, Logan Kincaid gave his word to watch over Evan's widow. But for two years he kept his distance…torn between honoring his solemn vow and succumbing to his secret love for his fallen comrade's wife. But when Dani Prescott desperately reaches out to Logan for the help only he can give, he rushes to her side—determined to fight for her safety as fiercely as he fights against his own buried desire.
Someone claiming to be her husband is stalking Dani and her infant daughter, making them virtually prisoners in their remote country home. Logan's elite military training and high-risk security expertise have outmatched more dangerous enemies. But the real challenge will be the burning temptation that threatens to overcome Logan whenever Dani is near…especially when she reveals her own hidden passion.
What worked for me (and what didn't):  Crazy for Her is book one in the K2 Team series. It starts with a prologue showing how Evan Prescott dies in action and eloquently describes the feelings Logan Kincaid, his SEAL team commander, feels about the loss of his best friend. Logan promises Evan he will look after Evan's wife, Dani and the the baby on its way but then gets shot in the head and recovering from his injury gets in the way.

Logan has been in love with Dani ever since he and Evan met her in a bar one night. Dani chose Evan and Logan has never acted on his feelings, respecting the relationship between the Prescott. Now that Evan is dead, he is even more conflicted. He has made attempts to visit Dani and her new baby girl but he has never made it to them, always backing out with some excuse or another made to himself about how he was not ready. He knows it's actually a form of cowardice – he feels responsible for Evan's death and ashamed of his feelings for Dani, all of that mixing into a toxic mess in his head.
However, Dani has asked for his help and he made a promise to Evan so this time he actually makes it to her home in North Carolina. Dani is being stalked and is terrified. It has been 14 months since Evan's death but someone is apparently pretending to be Evan and demanding she be a good wife. It's freaking her out. The police haven't been able to help much at this point and Dani is worried about what may happen to her and to her daughter, Reagan, if the stalker escalates his behaviour further.
Dani always thought Logan was good looking and acknowledges that if he had've approached her first maybe she would have ended up with him instead of Evan. She did love Evan deeply though and misses him every day. Still, it's been long enough that Dani's libido and her heart have woken up and when she sees Logan she thinks maybe a fling might be just the ticket. After all, once the stalker situation is settled, Logan will go back home to Pensacola in Florida and they won't see each other often. Dani isn't keen on getting seriously involved with a man who puts his life at risk as she can't bear the thought of losing another husband but a fling she can do.
As the stalker situation escalates and Logan gets his specialist security team (K2) involved to help, he and Dani fall in love. Logan isn't looking for a fling at all. In fact, he's saving himself, not for marriage exactly but for someone he loves. (I admit I did roll my eyes a bit at the virgin hero trope here. It felt a little far-fetched but there was an explanation given later in the story which fit with Logan's character – I still rolled my eyes.)
The relationship builds over a long enough period of time that I was completely happy to buy into the HEA. There was no foolish behaviour from either Logan or Dani and the plot cleverly gave them a "time out" from the stalker worries to consummate their budding romance. Also, they already knew one another and had affection and memories between them. How they felt made sense.
The stalking plot veered off into a story about a cult which was a bit of a surprise but I was prepared to go with it. I liked how there was a vein of compassion running through the narrative even while I felt a little uncomfortable with some aspects of it. Maybe I'm just super sensitive at the moment but it seemed to me that someone influenced by a cult and clearly suffering from a mental illness of some sort was a bit of an easy target.
What else? I had listened to the sample at Audible but wasn't sure what I thought of Mikael Naramore. I decided to borrow this one from the library so if I hated the narration I wouldn't have wasted a credit. As it turns out I don't think the Audible sample does Mr. Naramore justice. I ended up enjoying his narration very much and I'd happily listen to him again. I also liked Amy McFadden's performance. She can be a bit of an acquired taste and tends to draw the extremes of reaction. I'm often an outlier and here I fall on the mostly positive side of the line without being a complete fangirl.

Crazy for Her wasn't quite as strong a listen for me as Only Her, but it was a good solid romantic suspense and I'm pretty happy there are other books in the series I can read or listen to now.
Grade: B