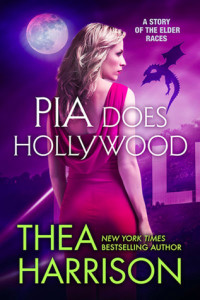 Why I read it:  I'm a fan of the series. After finishing the first in this trilogy of novellas, Dragos Goes To Washington on audio, I bought the next two in digital format because impatient.

What it's about: (from Goodreads)  After making a diplomatic pact with humankind and the other leaders of the Elder Races, Pia Cuelebre, mate to Dragos Cuelebre, Lord of the Wyr, reluctantly heads to Hollywood to spend a week with the Light Fae Queen, Tatiana, before the busy Masque season hits New York in December.
Dragos has never let the lack of an invitation stop him from doing anything he wanted. Unwilling to let his mate make the trip without him, he travels to southern California in secret to be with her.
But when an ancient enemy launches a shattering assault against the Light Fae, Dragos and Pia must intercede. The destruction threatens to spread and strike a mortal blow against all of the magically gifted, both human and Elder Race alike.
Working with the Light Fae to neutralize the danger, Dragos and Pia find their deepest vulnerabilities challenged and their most closely held secrets threatened with exposure.
Series spoilers follow: Be ye warned.
What worked for me (and what didn't):  The title, while cute, is a bit misleading. The action of the novella takes place in a little more than 24 hours and Pia doesn't have time to do anything Hollywood while it takes place. (I trust she did some during the remainder of her visit however.)

Particularly because Pia is pregnant with their second child, Dragos is very reluctant to let Pia go to Hollywood without him. However, the point of her going is to demonstrate trust and foster good relations between demesnes and Dragos going too would defeat that purpose. So, he follows incognito and they plan to meet up whenever they can and remain in touch telepathically. That way he can be close at hand if something happens. The added bonus is that their recent mating frenzy hasn't quite worn off and both of them have needs. A week is a long time in Mating Frenzy-Land.
However, when Dragos arrives, he notices a surprising heightened security; while he approves of it, he thinks it's a little over the top. Very quickly, it becomes obvious that the Light Fae have been maliciously infected with a zombie-like virus and the security measures are partly protection and partly quarantine. Tatiana, Queen of the US Light Fae has an enemy in her twin sister, Isabeau, (exactly why is contained in the book) and it's clear that she has sent her "Hounds" to wreak havoc on the Light Fae demesne and Tatiana. Unfortunately, the sorcerous infection is not restricted to Light Fae only (and that's bad enough, let's face it). Dragos becomes infected and other humans with magical gifts do too.
All of a sudden, the secrets Dragos and Pia keep – her true Wyr nature, her pregnancy, Dragos' memory loss from the accident earlier in the year and Dragos' very presence in California, are at risk and Pia is faced with the potential of a very difficult choice indeed.
What else? The story is complete in itself and has real tension to it even though I was pretty confident they would both be okay. (Is it just me who thinks that the Elder Races who haven't worked out what Pia is by now are a little dumb? What else but a unicorn fits all the things which are made public? Why else would they work so hard to keep it a secret? But, I digress.)

The other thing the novella does is build another bridge between the US and UK Elder Races. I gather that the action of the series is planned to moved over the pond and focus more on those characters from England and perhaps the rest of Europe. Isabeau is introduced as a powerful enemy and there is tantalising history between Dragos to keep readers guessing as well.
The finale fizzled a little in terms of dramatic set pieces but it was an exciting and tense story nonetheless and a very enjoyable addition to the Elder Races canon.
Grade: B