Monthly Mini Review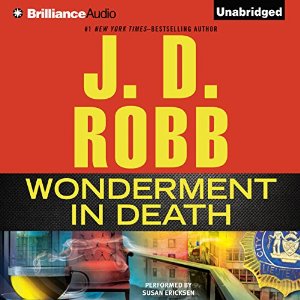 Wonderment in Death by JD Robb – B The really excellent thing about In Death novellas which are usually only sold as part of anthologies in digital/print, is that they are available separately as audiobooks and they are released at the same time as the anthology. So I don't have to buy an anthology I don't want to get the story. As I prefer to listen to them anyway, this is a win/win for me.
Taking place shortly after the events of Devoted in Death, Eve is called in on a rare night off to the scene of an apparent murder/suicide. The deceased brother and sister are close friends of Louise Dimatto and Louise has asked Eve to take a special look. Things cannot be as they appear; Louse is sure of it. And so is everyone else Eve speaks to actually. This is completely out of character for the apparent murderer. As Eve investigates, she finds a sociopathic psychic with a fascination for Alice in Wonderland and she has to go down the rabbithole to catch him. (I should be a blurb writer. Really. That was gold. GOLD I tell you.)
I said in my review of Devoted in Death, that Roarke took somewhat of a backseat and, it was both a pro and a con. Here, he is all up in the business from the start and he's there for the takedown so it was back to the familiar. For a billionaire, he certainly finds time to spare to fight crime.(Is Roarke Batman??). Can I complain about more Roarke? Not really. Peabody, McNab, Feeney and Mira also feature strongly in the story and as usual I enjoyed it. Some crimes are faster to solve than others so these novellas in between the bigger books also make sense in the context of the series. It was a very pleasant three an a half hours, easy to fit in to my listening schedule and the narration by Susan Ericksen was, as usual, excellent.
BUY IT:
AMAZON
Coming Soon
on Audio
Reviews of these books will be up soon at AudioGals.
Links