Monthly Mini Review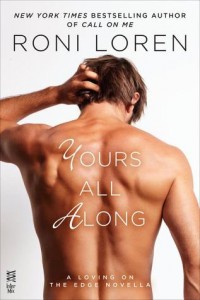 Yours All Along by Roni Loren – B-  This novella is a kind of prequel to Call On Me which I reviewed for Dear Author this month. I read it in the wrong order but it doesn't really matter. The only thing Call On Me "spoils" is that they are happily together and romance readers already know that's how it's going to end so it's no big deal.  Actually, it was probably beneficial that I'd read Call On Me first because I knew Devon and Hunter were still very happy together many years later and that helped give me a sense that they were very much right at the end of Yours All Along.
The novella is set in 2007 and flashes back to 2003 when both men were in college and roomed in a frat house together. Devon, openly gay, became close friends with Hunter, who comes from a wealthy controlling family with high expectations. His State Senator father is a homophobic bigot and expects certain behaviours from Hunter – and they definitely don't include being gay. Hunter had previously identified as straight but over time, his attraction for Devon develops. I suppose it is a version of an Out for You story but it felt authentic to me. When Devon and Hunter met they were just 20 so it seemed not unbelievable to me that Hunter may not have previously realised his same sex attraction. This is particularly so because it was only when he came to California for college that he felt any sense of freedom to be himself at all.
Most of the novella is the flashback sequences depicting how the men moved from friends to more and what broke them apart four years earlier. In 2007, Hunter is engaged (to a woman) and goes to Dallas for a quick pre-wedding break where he meets up with Devon again. I'm not a big fan of cheating so I was a bit apprehensive about that. However, I'm pleased to say there was NO CHEATING.  (Yay!). The 2007 section takes place in little more than a day and the HEA is therefore very quick. I could definitely have read more about these two and I'd have liked the novella to have been a little longer at least.
Still it was a fun and sexy read. I hope the author writes more m/m.
Coming Soon
on Audio
Reviews of these books will be up soon at AudioGals.
Links