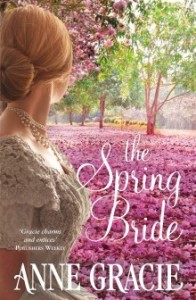 Why I read it:  I was provided with a review copy by the publisher. (One of the first paper books I've read in ages!)

What it's about: (from Goodreads)  A dog in need of rescue brings together a young debutante and a mysterious stranger in this regency charmer from the beloved Anne Gracie. For fans of Mary Balogh and Madeline Hunter.
On the eve of the London Season, Jane Chance is about to make her entrance into high society. And after a childhood riddled with poverty and hardship, Jane intends to make a good, safe, sensible marriage. All goes according to plan until a dark, dangerous vagabond helps her rescue a dog.
Zachary Black is all kinds of unsuitable—a former spy, now in disguise, he's wanted for murder. His instructions: to lie low until his name is cleared. But Zach has never followed the rules, and he wants Jane Chance for his own.
If that means blazing his way into London society, in whatever guise suits him, that's what he'll do. Jane knows she shouldn't fall in love with this unreliable, if devastatingly attractive, rogue. But Zach is determined—and he's a man accustomed to getting what he wants.
What worked for me (and what didn't):  I don't read very much historical romance these days I must say. But the blurb for The Spring Bride enticed me to read – I do like a hero in pursuit. I listened to The Autumn Bride but haven't (yet) read The Winter Bride.  I don't think it's entirely necessary to have read the second book but I think it probably helps to have read the first. Jane Chance is the younger sister of the heroine of that first book and it contains the story of how the four Chance "sisters" came together and how they ended up in Berkeley Square with Lady Beatrice.

Abby and Damaris are now happily wed and Jane is just about to make her come out. Her perception of how life was as a child is of course different to that of Abby's.  Abby is six years older and has different memories. But Jane remembers that even though her parents loved each other, they had no money and no security. When her mother became ill, there was no money for proper treatment and that lack eventually drove her father to a desperate act – he was shot in the process of highway robbery.  After both parents had died, Abby tried to look after Jane but at such a young age (12 and six respectively), it was impossible and they ended up at "the Pill' (aka the Pillbury Home for Daughters of Distressed Gentlewomen).  There they both received an education, food and shelter, but once Abby turned 18 she had to leave and that meant Jane was alone.
Abby wants for Jane what she has – love.  Jane wants security and a family.  She wants to know that her children will never go hungry or be forced to live off the charity of schools such as the Pill. Love, she thinks, is something which may or may not come later, but which is far, far too dangerous to seek before the other things are settled.  If she cannot love her husband, well, she will shower love on her children and be content.  At least, that is her plan.
For all her practical intentions, Jane has a very soft heart and is always "taking in strays".  When she discovers a group of boys torturing a very ugly dog, she runs to its rescue. Unfortunately, scrappy as she is, she is no match for the entire group of boys and a gallant "gypsy" enters the fray on her behalf.
Zachary Black, lately a spy for His Majesty, has recently returned to England from Hungary.  He left England 12 years earlier and had not planned to return. Zachary Black is not his real, or proper name, but given there is a charge of murder hanging over him if he resumes his true identity, he elects to remain plain Mr. Black for now.  However, his cousin has taken steps to declare him legally dead and thus to take over Zach's rightful estate.  Zach decides to stick around and resolve these matters.
When he meets Jane, he is struck by love almost immediately, even if he doesn't quite know it at the time. Because of Jane, his other problems become both more pressing and more serious to him.  Because of his problems, he cannot reveal himself to be the titled gentleman he truly is and this means he might well miss his opportunity to wed the lovely Miss Chance.  Jane, has taken early steps to complete her plan to marry for security and Zach is an unexpected and unwelcome development. She knows she ought not entertain his attentions even in the slightest but (as one does) finds reasons and excuses to continue to spend time with him until it is far, far too late for her heart.
Jane and Zach have a sweet and delightful courtship, albeit mostly in secret.  When Jane becomes aware of who he actually is and the trouble he is in, all of the Chance family – found and born, swing into action to try and help.
I suppose it is something in the way of a "wallpaper historical". There were some things which I found anachronistic and which skirted credulity. Readers who prefer strict adherence to historical accuracy are likely to be somewhat disappointed.  However, I was happy enough to go along with the story. I was in the mood for something sweet and comforting and not too dramatic, and that's exactly what I got.
Zach was a genuinely nice guy. Yes, he has a roguish side, but that is mainly in the way of him being a little cheeky and having little use for rules. He does not ever treat Jane in a cavalier manner and that certainly endeared me to him. Jane is the beauty of the family and Zach was definitely not blind to her attractions, but he also saw, very clearly, that her appearance was the least of her charms. Jane was not at all caught up in her own looks. She even expected to get fat in her old age and didn't really care.
Zach reminded me a little of my favourite Anne Gracie hero, Gideon from The Perfect Rake. Prudence, Gideon's beloved, is plain but he sees her as the most beautiful woman in the world and is genuinely mystified by people who don't share his view (ie everyone else). Jane, of course, is not plain, but Zach's devotion was a close cousin to Gideon's. I am almost always a sucker for a hero who thinks the sun rises and sets on his lady love. *happy sigh*
What else? The story also has something of a rescue trope but it is not the usual sort and I must say, I liked the twist very much. I will say no more, so as not to spoil the story.

The prologue of the story mentions "the Man" who was after Jane and I can't for the life of me remember if he was identified in The Autumn Bride. It felt here a little undone. If it was sorted in the earlier book, I'd have appreciated a reminder here to round out the story. It may be however that "the Man" is a thread to be tied off in The Summer Bride, where Daisy, the last Chance sister, will be the heroine.
Also, left somewhat dangling for me was Jane's nightmares. I trust that Zach will comfort her if she has them in future but I'd have liked to have seen some of that worked out on the page.
I liked the dog (he's ugly-cute) and I agreed with Jane's observation that one can tell a lot about someone by the way they treat animals.
The Spring Bride is an enjoyable read, not too serious and relatively low on the angst factor. Gideon still has my heart but Zach gave him a run for his money.
Grade: B-