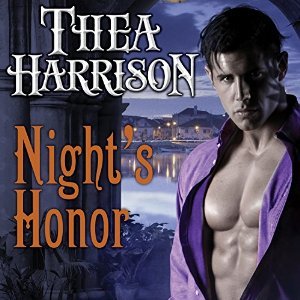 Why I read it:  This was one from my own TBL.  The new release is out soon now and I wanted to catch up on the series.

What it's about: (from Goodreads)  On the run from her former employer, Tess knows that she's vulnerable on her own amongst the Elder Races. That's why she decides to audition to become the human attendant of a powerful Vampyre of the Nightkind demesne. But while her position affords her the safety she seeks, her protector turns out to be more than she bargained for.
The right-hand man of the Nightkind King, Xavier del Torro is both terrifying and alluring. While his true nature frightens Tess, she can't ignore the appeal of his innate sense of integrity and self-restraint. Thrown into Xavier's world, Tess must quickly learn to navigate the dangers—both to her life and to her heart. But the biggest threat comes from her own past…
What worked for me (and what didn't):  The Elder Races books are some of the few paranormal romances I still read.  I've gone off a lot of PNR compared to my reading diet a few years ago.  I particularly enjoy them on audio because Sophie Eastlake is a favourite narrator of mine.  Here, I think the format left me with a happier experience than would have been the case if I had read the book.

I liked Tess and Xavier very much and I applaud relatively "ordinary" people getting books.  Xavier is Vampyre nobility of course but he's not the king.  I like that the world here is broad enough that the books can be quite different.  Dragos barely gets a mention in this book and there are no sentinels and few fae.  It's a richly built world which I think the author (and listeners/readers) can play in for ages and not get bored.
So far as Night's Honor is concerned, the story is fairly simple.  Tess is on the run from an angry djinn and seeks to hide out with a vampyre as an attendant.  If she's able to attract the attention of a powerful enough vampyre, maybe she'll be able to hide well enough and/or maybe the authority of her employer will keep her alive.  Xavier is at the left hand of Julian, the leader of the Nightkind Demesne and so very powerful.  Maybe powerful enough to discourage any continued interest the angry pariah djinn might have.  Xavier has a particular interest in skilled people who are forgettable in appearance. Tess thinks she is ordinary looking but it turns out that her beauty is just a little less obvious (I think this is romance novel law).
Tess and Xavier don't spend huge amounts of time together in the story.  There's plenty of page time (megabytes?) but in terms of actual time passing in the book, their time is very short.  It was a very fast attraction, courtship and HEA.  I suppose it could properly be consider a HFN because their relationship is pretty early days and they have much to discuss and negotiate, albeit there is implicit expectation that they will be able to do so successfully.
I thought the foreshadowing of what would happen, to whom and because of whom was pretty obvious and nothing in the plot surprised me very much.  Except for the end.  That did surprise me.  I thought I was about halfway into the story and then the book finished.  In part, this was because I lost track of time listening because even though it wasn't particularly earthshaking the characters were likeable and the writing style works for me. And, as I said before, Sophie Eastlake's narrations work for me too.  So the end felt abrupt because I wasn't paying attention to where I was up to in the book on my iPod.  But also, it felt that not all that much had happened.  I was expecting more of the plot against Julian to feature in the story.  In some respects I think this might be a bit of a duology because I think that story arc will be resolved in the next book (which is why I'm extra glad I've caught up on the series), where Julian and Melisande will be the protagonists.
I'm not a huge fan of ambiguity and I didn't completely understand exactly what the villain djinn was doing to the people he blackmailed (I *think* he was blackmailing them. That part was a bit vague for me). That said, I did like the resolution of Tess's conflict with the djinn and the way her quick mind worked to do a bit of self-rescuing.
Night's Honor enjoyable and easy listening, if a bit predictable and not as dense as some of the author's other books have been in terms of plot. It's not my favourite book of the series but I did like it. Xavier is a bit old fashioned in his courtship ideas in a sweet way and I liked his and Tess's dynamic together.
Grade: B-