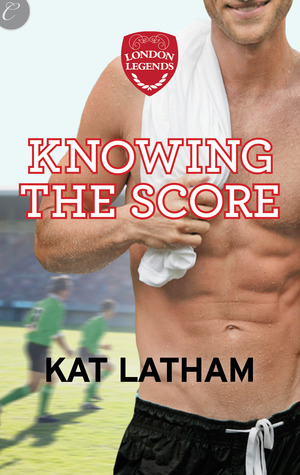 Why I read it:  I bought this one after multiple recommendations from trusted bloggers. When it came up in conversation again because of a special price, I dug it out of Mt. TBR.

What it's about: (from Goodreads)  Rugby player Spencer Bailey is determined to win a spot on England's World Cup team. But with a month break before the selectors start watching him, he's eager to have fun with a woman who knows the score: the relationship will end when rugby season begins. The lovely American Caitlyn Sweeney seems perfect for the role of temporary lover, since her visa will run out soon anyway.
Caitlyn works for an international disaster relief organization and can handle the world's worst crises, but she flinches from her own. Her past has left her with a fear of intimacy so deep that she has trouble getting close to anyone—until she meets sexy Spencer. His hot body and easygoing nature are too much for even her to resist.
Neither Caitlyn nor Spencer expects to fall hard for each other. But with their relationship deadline approaching, the old rules of the game seem less important than before…until past secrets surface, challenging everything they thought they knew about each other.
What worked for me (and what didn't):  I'm pretty happy with myself at the moment because I've just found a new author and she has a BACKLIST!  Squeeeee!  I really liked this book.  The style worked for me as well so I know I will enjoy other books by this author.  This is the first book in her London Legends series and there are two other full length books and one novella available with the next book in the series out in May (and I have bought them all mwhahahahaha).

The London Legends are a rugby team and the heroes are all related in some way to the team and/or rugby.  I only know a little about rugby (if I were from New South Wales or Queensland, I'd likely know more – South Australia is an AFL (Aussie rules footy) state), but there is a little glossary in the front to explain some of the terms and the sport itself doesn't play a huge role in the story.  It was just the right balance for me.  The author clearly knows the sport but it doesn't take over the romance.
The story opens by way of a prologue where a 19 year old Spencer is just about to play in the (rugby) World Cup final in Sydney.  Just before the match is about to start, he is arrested for statutory rape.  A couple of girls knocked on his hotel room door in order to celebrate his birthday with him. While everything which happened there was entirely consensual, one of them was under age.   It kept him out of the game and caused (of course) a scandal.  We don't really know anything more about what happened until right near the end, as the story itself takes up some 11 years later when a 30 year old Spencer meets Caitlyn, an American water and sanitation engineer working for a disaster relief charity in the UK for on a short term visa.   Caitlyn gave life-saving CPR to Spencer's beloved 91 year old grandfather.  Phillip is Spencer's only living relative and they are very close, Spencer having been raised by his grandparents.
Caitlyn, at 26, is a virgin. Not so much by choice – she has a traumatic family history which makes her nervous and shy of men and big men (like Spencer) in particular.  However, they are both very attracted to one another and what starts as a friends-with-benefits quest to relieve Caitlyn of her virginity ends up being much much more.
There is a half-hearted side plot involving Spencer's grandparents. Lilian and Philip were penpals during WWII and for some of the story, Caitlyn and Spencer tour some of the places mentioned in her letters (which Philip has kept). This really serves to get Spencer and Caitlyn together more than anything else and what could have been a more poignant secondary love story (a la Suzanne Brockmann's The Unsung Hero for example) just kind of fizzled out.
I thought Caitlyn was a little stupid later in the book for not realising something important – given her profession I found it only believable because she wasn't well, but the something stupid does bring matters to a head for her and Spencer so I went with it.
The best thing about the book was the way Spencer and Caitlyn talked and got to know one another.  Spencer is a really good guy.  His foolish behaviour as a juvenile isn't ever painted as "good" but he is, at base, a good man and he's very careful about enthusiastic consent from Caitlyn (and, one assumes from previous partners).  He's a genuinely nice guy and the type you'd love to bring home to mum and dad.  He's a dedicated athlete with loads of self discipline and he loves his grandad.  Can we just take a moment to sigh and say "awww" now?
Caitlyn is exceedingly competent and I loved the way her job and the important work she does was weaved into the story.  I would have liked to know what she planned to do after the end of the book – will she continue with the disaster relief agency but possibly in another role?  Maybe she and Spencer will have cameos in the later books and I will get my answer. Perhaps I will just ask the author on Twitter!
From the author's note at the back of the book, I can see that her day job is/was for a disaster relief charity as press/media officer and it was obvious that she knew of what she spoke when it comes to this area.  Not only was it interesting, it grounded the story in reality.  World building isn't something to which a lot of attention is always paid in a contemporary romance but it is something which is terribly obvious when it's wrong.  Here, the world building was authentic and wonderful.
What else? The sex was creative and inventive and sexy and was there to move the plot along, all of which I appreciated. I loved this book. If it's still 99c, there are far worse ways to spend money (in fact, this is true even at full price.)  I recommend.

Grade: B+