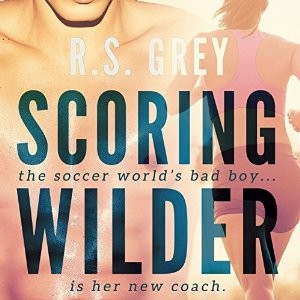 Why I read it:  I was provided with a review copy by Audible Studios.

What it's about: (from Goodreads)  What started out as a joke— seduce Coach Wilder—soon became a goal she had to score.
With Olympic tryouts on the horizon, the last thing nineteen-year-old Kinsley Bryant needs to add to her plate is Liam Wilder. He's a professional soccer player, America's favorite bad-boy, and has all the qualities of a skilled panty-dropper.
• A face that makes girls weep – check.
• Abs that can shred Parmesan cheese (the expensive kind) – check.
• Enough confidence to shift the earth's gravitational pull – double check.
Not to mention Liam is strictly off limits . Forbidden. Her coaches have made that perfectly clear. (i.e. "Score with Coach Wilder anywhere other than the field and you'll be cut from the team faster than you can count his tattoos.") But that just makes him all the more enticing…Besides, Kinsley's already counted the visible ones, and she is not one to leave a project unfinished.
Kinsley tries to play the game her way as they navigate through forbidden territory, but Liam is determined to teach her a whole new definition for the term "team bonding."
What worked for me (and what didn't):  I have the print version of this book on my TBR but my TBL is far shorter so I find it easier to listen when I have the opportunity.  Kinsley is a little… hyperactive on occasion and new-to-me narrator Jessica Almasy depicted that well.  I couldn't fault the way she portrayed the character.  While there were times Kinsley felt very young (and therefore me old) the narration was true to the text.  I also thought Ms. Almasy had a great "hero voice" and I liked the way she delivered Liam's dialogue.

Unlike a lot of New Adult I've read or listened to, Scoring Wilder is restricted only to Kinsley's point of view.  As a hero-centric reader this was a bit of a disappointment.  Liam was practically perfect – the reformed bad boy who turned over a new leaf immediately on seeing Kinsley and in some respects he was a bit light on in terms of character development.  I'd have liked something from his point of view to give him some more depth.  As it was, the listener is restricted to viewing Liam through Kinsley's eyes and his somewhat limited (in terms of word count only) dialogue.
Even though the blurb indicates that Liam is Kinsley's coach, it's not icky because he's a temporary specialist coach for the summer and, while it's clear he is attracted to Kinsley, he's not slimy about it and I never felt he pressured her in any way.  If anything, it is Kinsley who is the more active "pursuer".  Unlike the blurb however, her feelings for Liam are never a joke and she's not out to get him into trouble at any stage.
I was pleased that the book didn't stay the entire way in the "we have to keep our relationship a secret" mode because it got old pretty fast and it also meant their relationship was very very limited.  It was really only once they were out in the open that I could see there was more to them than mere physical attraction.
There are strong female friendships in the story and some of the things Kinsley, Becca and, to a lesser extent, Emily, get up to are hilarious and felt authentic as well.  The book even passes the Bechdel test.
What else? I admit to some curiosity about Kinsley's dad, who didn't really appear directly in the story and I wasn't clear on what his relationship was with Kinsley's mother, for all that there was some talk about how they got married when they were very young.

Sometimes Kinsley felt very young to me and I did wonder about her getting into a serious relationship before she'd done very much but at the same time – practically perfect Liam was practically perfect and who would turn that down?  Liam is 25 when the story begins and so is still relatively young himself – even so there were times when he sounded far older to me and other times he acted like he was 18.
Even though Kinsley sometimes scared me a bit with her gung-ho adventurousness, she had a wonderful sense of humour which is on show throughout the book and she had me laughing out loud more than once.  I liked her quite a bit and had fun listening to Scoring Wilder.  I thought Jessica Almasy did a great job of the narration.  I was very impressed and definitely plan to listen to more of her work.  I think fans of Kate Rudd or even Sophie Eastlake would like Ms. Almasy's work.
Grade: B