Monthly Mini Review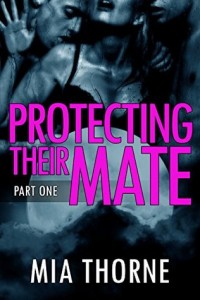 Protecting Their Mate (Part 1) by Mia Thorne – B-  (review copy provided via author) This is a very hot, very short read, coming in (heh) at around 30 pages.  Ashley is a 20 year old wolf shifter who has been kept away from the pack by her parents, to live only in the human world.  Every month it is increasingly difficult for her to manage the sexual craving she has at the full moon and her parents lock her away in the basement.  This month has been even worse and it has been four days and no-one has given her any food.
The local pack Alpha has sent his second, Blake, to find Ashley after hearing word she is being mistreated.  When he finds her, she is not only in serious need of his help (in a number of ways) he also finds that she is in mating heat. It appears she's the only remaining female werewolf who can bear offspring.  This obviously makes her very important to the survival of the pack.
Blake has to, er, help Ashley out – the only way to assuage the craving clawing at her body is for a male shifter to come inside her.  If that sounds silly, that's because it is (but so are a lot of things – it's not always bad).  The world building, as you'd expect in part one of a serial as short as this, is very thin.  Most of the page time is spent with Blake and Ashley getting hot and heavy.  What makes the story entertaining is that the sex is dirty and steamy.  As erotica it works well. (I also appreciated that consent was an important factor, notwithstanding the mating heat perhaps made Ashley prepared to do things she might not otherwise do.) The jury is still out as to whether there will be a romantic HEA.  It's apparent that Ashley has the, um, choice of mate and firmly believes in "try before you buy" so I'm guessing the next instalments have lots more sex with lots more wolf shifters, maybe more than one at a time.
It's done well for what it is –  a very short erotic story which doesn't take itself too seriously.  This and other instalments in the serial are available for 99c each (and for those readers with a Kindle Unlimited subscription I guess you could say it's free).
BUY IT:
AMAZON
Coming Soon
on Audio
Reviews of these books will be up soon at AudioGals.
Links