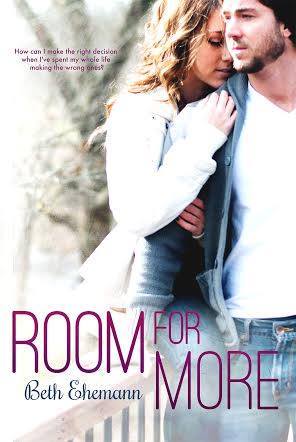 Why I read it: I bought this book after the first in the series was a DA Daily Deal.

What it's about: (from Goodreads) Four years ago, my dreams were shattered in an instant.
Three months ago, I found something I haven't had in years.
Hope.
That hope came in the form of a sexy, carefree hockey player named Brody Murphy. He swooped in and won me over with his big heart and the way he cared for me…and my girls. When they look at him, they see the father they've never had.
Now, my past and present are colliding and the outcome might just be too much for me to bear. Can I make the right decision when I've spent my whole life making the wrong ones?

Warning: Spoilers for book 1 follow.
What worked for me (and what didn't):  Brody continues to be his (almost) perfect self, as he and Kacie navigate their new relationship. 
Crossing my arms over my chest, I cocked my head to the side and looked at him skeptically. "Since when does staying home with kids all day interest you?"

He looked over at the girls, who were watching a movie in the living room, and shrugged. "Since them."
Awwwww.  See? Perfect.

The big "shocker" at the end of the previous book was that Kacie bumps into Zach (her ex and the biological father of her twin girls Piper and Lucy) in the hospital where she's doing her placement (as part of her degree).   The annoyance is that Kacie doesn't tell Brody about it for way too long and that's essentially the big conflict of the book.  Brody deserved better.

The season is just about to begin and Brody will be playing away a lot – I felt the challenges this raised were mostly glossed over. I suppose because the reader has spent time in Brody's head we already know there's no actual risk of him cheating on Kacie or anything so maybe that's why it wasn't a thing.  Still, making time for a relationship while playing a professional sport all over the country, when your girlfriend lives 1.5 hours away from your home base is a thing that I felt could have been expanded more.  It wasn't that I didn't believe they'd do okay, I just wanted to be shown rather than told.  When Brody says the 3 hour return journey is okay for him I wondered.  Then again; I live in a place which is commonly called "the 20 minute city".  It's more like 40 minutes now, but the gist is that most of us don't commute all that far for work.  In the Eastern states, there are people who regularly do a 3 hour return journey to work and they don't get paid millions either.   Most of the season takes place in the 8 months between the main story and the epilogue – I'd have liked a little more of the in-between.
Brody is on the final year of his contract with the Minnesota Wild and is desperately hoping to get an offer to stay at the end of the year.  How he plays this season is crucial to his future prospects.  He has lived in Minnesota all his life and wants to play all of his career for the Wild. It's a tension he doesn't really discuss with Kacie but that was mainly because he didn't want Kacie to use it as an excuse to break up with him. Nevertheless, as an excuse it's a little thin and I'd have preferred him to talk to her about it.
Zach isn't a threat to Kacie and Brody's relationship and I was glad the book didn't go there.  The conflict arose out of Kacie not telling Brody about Zach's reappearance for way too long but Kacie didn't ever think of reconciling with Zach.  Part of the story arc was Zach stepping up to take a role in his daughters' lives and how Kacie and Brody navigate this.  Brody also gets some distressing family news and his universe is shaken for a while there.
The story has perhaps too perfect a resolution.  In some respects it was a little saccharine.  However, I read the entire book in an evening.  Which shows that it's an easy, non-taxing read (which is something I like from time to time) and also really engaging.  The writing style is so readable and I did like Brody and Kacey and the little family they were making.
I have a grip with one of the secondary characters – Kacie's good friend Alexa. It's mildly spoilerish so I have hidden it. Read at your own risk.
Spoiler
  Alexa had long said she didn't want children but when she finds herself pregnant, she's happy as.  I'd have liked a happily childless couple in the story.  Not everyone wants a baby and that's totally okay.  Most people who say they don't want a baby actually don't want a baby.  I didn't like the narrative's suggestion that everybody secretly does want a baby. And I say this as a person who did want a baby very badly.
[collapse]
I enjoyed reading the book very much but looking back it was a little lacking in substance.  I liked it very much and was vastly entertained but in some respects it was a bit like fairy floss – too much and you overdose on the sweet.  Totally worth my 99c though. Absolutely.
Grade: B-