Monthly Mini Review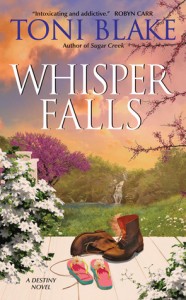 Whisper Falls by Toni Blake – C I borrowed this book from the library after a recent DBSA podcast which mentioned that the heroine has Crohn's Disease.  Tessa Sheridan moved home to Destiny, Ohio some years earlier because she needed help due to her illness.  Her mother lives close by and she has a part time job in a friend's bookshop which allows her to work when she feels well but is very flexible if she's unwell.  She was an interior designer with a big Cincinnati firm but couldn't keep up with the demands of her job.  She has her own interior design business in Destiny but there's little demand and she's had no actual customers.  Lucky Romo moves back home to Destiny after he took over at age 18. He didn't plan to come back but he recently found out he has a son – the result of a one night stand some ten years earlier when he'd been (very briefly) in the area.  There is little angst about the son and actually that was kind of refreshing.  The big deal about Lucky is that he's had a rough past. He was in an outlaw motorcycle gang for four years shortly after he left town and did some bad things. Part of the reason he stayed away was the potential for risk to his family.
It has all the ingredients of a cracking story but it was just okay for me. I admit I was kind of bored and I skimmed a lot of it. Tessa's love for The Ellen Show was over the top and kind of nauseating.  I liked a lot of the interaction between Lucky and Tessa and those were the bits where I read more closely.  I did like that the book didn't shy away from making the things Lucky did very bad things (they could still have been worse) and I liked that he had to work some things out with his family rather than being completely embraced as the prodigal son (though there was a bit of that).  Crohn's Disease wasn't a huge focus in the story.  Tessa has basically learned to manage it.  She doesn't want to be a burden and she doesn't want people to define her by her disease so she prefers not to think about it. I liked how Lucky was happy to take care of her when she was ill and he had to push a bit to get her to allow that.  I felt like she had a bit more balance by the end but I also think she had a relatively mild form of the disease.  Some of the things which would have possibly changed my impression in that regard were glossed over – for instance, she had a limited diet but the story never disclosed what that actually looked like day to day.
Maybe it was a mood thing but the story didn't really grab me.  It was okay, not great. Maybe I'd have liked it better if I'd read the earlier books in the series and understood some of the background better – but I didn't feel lost so I don't think it's entirely necessary.  Also, I was mildly skeeved out by the regular addition of unknown (hopefully food) substances stuck to the text of the library book.  Man, I hope they were biscuit crumbs.
BUY IT:
AMAZON     KOBO     BOOK DEPOSITORY
Coming Soon
on Audio
Reviews of these books will be up soon at AudioGals.
Links