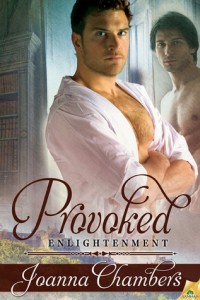 Why I read it:  I've had my eye on this series for a while.  I knew from the author that there was no HEA until the third book and that by the end of the first book, the protagonists are apart.  That being the case, I decided to wait until the third book was out before I read any of them. That way I could get my HEA fix.  While there are no cliffhangers, and book two does have a kind of happy for now ending, the big payoff is in book three.

I decided to review them all together because I think it is a story in three parts. Unless the writing style doesn't work for a particular reader, anyone who picks up Provoked will read Beguiled and Enlightened as well.  I read them one after the other and I suspect new readers are likely to do the same.
Necessarily, the blurbs for the second and third books contain some spoilerish things for the previous stories but given that readers know that it is a romantic trilogy, I don't think they give that much away.
Provoked

Lowborn David Lauriston lacks the family connections needed to rise in Edinburgh's privileged legal world. Worse, his latest case—defending weavers accused of treason—has brought him under suspicion of harbouring radical sympathies.
Troubled by his sexuality, tormented by memories of a man he once platonically loved, David lives a largely celibate life—until a rare sexual encounter with a compelling stranger turns his world on its head.
Cynical and worldly, Lord Murdo Balfour is more at home in hedonistic London than dingy, repressed Edinburgh. Unlike David, he intends to eventually marry while continuing to enjoy the company of men whenever he pleases. Yet sex with David is different. It's personal, intimate, and instead of extinguishing his desire, it only leaves him hungry for more.
As David's search for the man who betrayed the weavers deepens, he begins to suspect that his mysterious lover has more sinister reasons for his presence in Edinburgh. The truth could leave his heart broken…and more necks stretching on the gallows.
What worked for me (and what didn't):  I'm really glad I waited for all three books before I read this one. While it is the necessary first chapter and provides context to the relationship between David and Murdo, it doesn't have a satisfying ending in terms of romance.  The story was complete – the mystery regarding the agent provocateur was resolved and there really was no other way for the story to end – neither man was remotely read for a happy ending but my romance loving soul was not soothed.  I was very happy to be able to move straight Beguiled.  It would have been a mistake for me to read Provoked when it was first released.

David believes he is wrong.  His sexual orientation is a mortal sin and he tries hard to resist his sexual impulses.  He regularly fails (because of course) but until he meets Murdo Balfour, his encounters have been more about scratching an itch than any kind of romantic intimacy.  Even their first encounter is more of the former but there is enough of the latter to keep both men thinking about the other long after it is done.  When they meet again in Edinburgh, their level of intimacy progresses and David gradually begins to feel differently about himself.  There could never be a happy ending for David while he thinks about himself so; the story made sense in its context.
I liked the writing style and the historical information peppered throughout the book.  It had the feel of authenticity but was never boring or info-dump-y.
All of the books are told from David's deep third person POV so Murdo Balfour is fairly opaque in this book.  Partly that was the perspective and partly that was deliberate I think, given the nature of the story. I felt I understood David quite well and I was quite invested in his happiness.  While I knew that Murdo and David were destined to be together, I didn't have strong feelings about Murdo in this book.  For me it was all about David.
_____________
Beguiled

David Lauriston couldn't be less interested in King George IV's first visit to Edinburgh. But with Faculty of Advocates members required to put on a minimal show of patriotism, David makes an appointment with his tailor for a new set of clothes-only to run into a man he hasn't seen for two long years.
Lord Murdo Balfour.
Much has changed since their bitter parting, except their stormy attraction. And when Murdo suggests they enjoy each other's company during his stay, David finds himself agreeing. After all, it's only a temporary tryst.
Amidst the pomp and ceremony of the King's visit, Murdo's seduction is more powerful than David ever imagined possible. But when other figures from David's past show up, he is drawn into a chain of events beyond his control. Where his determination to help a friend will break his body, threaten his career, and put at risk the fragile tenderness he's found in Murdo's arms.
What worked for me (and what didn't):  Two years have passed since the events of Provoked.  David spent a bleak winter after, missing the intimacy, the potential of it, that he experienced with Murdo.  I don't think either man considered themselves in love, but they were both nevertheless, deeply affected by the other.

When Murdo returns to Edinburgh to attend the King during his visit, he is happy to see David again.  It was not a surprise that it was a large motivating factor in his decision to obey his father and attend.  David, for his part, is wary of starting something up again with Murdo – he was very depressed last time after they parted – how much worse will it be if now?  Of course, that never really works to keep two lovers apart and David throws caution (in terms of his heart but not anything else) to the winds and agrees to spend time with Murdo again.
Their relationship and their level of intimacy continues to develop but David still keeps certain things close to his chest.  A good friend (a friend who had hopes of being Mrs. Lauriston) is in trouble and he seeks to help her. My feeling was that David didn't include Murdo in this because he saw Murdo as very separate to his "real life".  He could see no future for two men in 1820s England and he kept his various pursuits compartmentalised.  That made sense to me.  Even so, Murdo, it appears, is deeply smitten and wants more from David but at the same time, he doesn't see how there can be more of a future than, effectively, semi-regular hookups.  This is not something David can contemplate, particularly as Murdo plans on marrying one day.  David will not be party to an adulterous relationship.  But Murdo is not married now and when David is injured helping his friend, he takes the opportunity offered by his lover to spend time together while he recuperates.
Thus the second book has a kind of happy for now ending but things between the pair are far from settled.
_____________
Enlightened

Five months ago, David Lauriston was badly hurt helping his friend Elizabeth escape her violent husband. Since then, David has been living with his lover, Lord Murdo Balfour, while he recuperates.
Despite the pain of his injuries, David's time with Murdo has been the happiest of his life. The only things that trouble him are Murdo's occasional bouts of preoccupation, and the fact that one day soon, David will have to return to his legal practice in Edinburgh.
That day comes too soon when David's friend and mentor takes to his deathbed, and David finds himself agreeing to take on a private mission in London. Murdo is at his side in the journey, but a shocking revelation by Murdo's ruthless father leaves David questioning everything they've shared.
As tensions mount and the stakes grow higher, David and Murdo are forced to ask themselves how far they're prepared to go—and how much they're prepared to give up— to stay together. And whether there's any chance of lasting happiness for men like them.
What worked for me (and what didn't):  Five months have passed since David was injured helping his friend Elizabeth.  He and Murdo have been living happily together at Laverock House in Perthshire but now that David is almost completely recovered, the future looms large.  He has no excuse to stay and every reason to return to Edinburgh.  His practice will not survive if he leaves it much longer and what future could he and Murdo have anyway? He has enjoyed doing estate and investment business for Murdo but he doesn't see this as a long term option.

Murdo has to go to London on mysterious business he won't discuss with David.  David gets news from Edinburgh that Mr. Chalmers, his old mentor, is dying.  On his deathbed Chalmers begs David to see to the welfare of his daughter Elizabeth and so, both Murdo and David go to London.  There, all the various plot lines from the series come together – Murdo has to find a way to get out from under his father's thumb and Elizabeth's violent husband is searching for her and will not rest.
David and Murdo finally have to own up to their feelings for each other and think about what they are each prepared to do in order to have a future together.  At first, I thought it was going to be David who would have to make more sacrifices but in the end, I don't think that was the case at all.  And, even though both men changed over the course of the series, for me it was Murdo who softened the most.  David remained kind of uptight and buttoned down but he did come to accept himself and his love for Murdo as good and not anything sinful. Both men had to decide for themselves what they really wanted and needed in order to be happy and neither was able to achieve it without some kind of sacrifice.  That said, I think both Murdo and David ended up very happy with their bargain and wouldn't change a thing.
I liked the way the various storylines came together. They made sense and, even the few coincidences didn't strain my credulity. Over the course of the three books, I became invested in Mr. Chalmers, Elizabeth and Euan and their stories moved me.  I liked the juxtaposition of aristocratic marriages for power and position, the lack of power a wife had and the secrecy required for Murdo and David to live happily. It was interesting that David noted that as much as he was constrained by society, Elizabeth's position was worse in many ways.  (David of course ran the risk of arrest for sodomy but Elizabeth's present actual circumstances made her situation more immediately dangerous.)
What else? For me, reading the entire series at once meant that I didn't forget what had happened before, as well as giving me my HEA.  I think the author was very clever in the ways she managed to give the men a happy ending and make it realistic for the times.  As I do, I wondered what would happen when one or the other died (you know, like in 50 or 60 years) and I was satisfied that while they would both be stricken with grief, each would be able to support themselves.  I liked the way the narrative formed an equality between the two men. 

David changed internally but he was never comfortable talking about his feelings.  Murdo was always expansive in some ways and, once he was out from under his father's thumb and assured of David's love, he became the more openly affectionate partner (when they were private). It felt completely organic to the characters when I think about it now and I liked that they were, over the course of the series, drawn with a sufficiency of depth.  Murdo was quite opaque in the first book but by the end, the changes in him and his love for David could not be doubted.    It felt to me like Murdo had erected a hard protective shell around himself due to his father's machinations and that being with David was softening him.  When he finally sorted out the situation with his father, his true self was more fully revealed.
I also liked that Murdo's father wasn't completely demonised.  He had different notions of what was important and his methods left a lot to be desired (he could be extremely ruthless) but it was also clear that he loved his son and I liked that he had nuance and depth to him.
I liked the gradual reveal and build in the series. David slowly begins to change his view of himself and that is largely down to Murdo.  With him he knows joy and happiness and healthy sex but it is not just about getting off.  It is about sharing intimacy and they are clearly well matched intellectually and in their other interests.  The final book is the one with the biggest payoff.  Not just the HEA.  It is here that the men reveal their true feelings and it is here where David and Murdo share all of themselves and stop the compartmentalisation which was a feature of the earlier book.  I think the way these things were gradually resolved gave them more impact and more realism. Each book had a separate and sensible story arc. The journey of the romance felt organic and I had the sense of the pair being true partners in the end.
I liked the Enlightenment trilogy very much.  There was something understated about it but at the same time, it had rich emotion and depth of feeling. The historical background felt authentic and the ending was both happy and fitting. Were I to grade the books separately, I would probably give a B- to Provoked, a B to Beguiled and a B+ to Enlightened.  Overall, the series is a solid B and recommended.
Grade: B