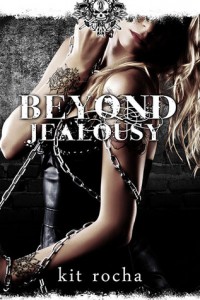 Why I read it:  I received a review copy from the author.

What it's about: (from Goodreads)   She's been looking for the perfect man. She found two.
When Rachel Riley sacrificed a life in Eden to protect the O'Kanes, she earned her place in the powerful Sector Four gang. But the former crime princess is tired of being everyone's sweet little sister . It's time for her to get wild, to embrace her fantasies as only an O'Kane can—with a delicious exiled soldier and the gang's wickedly sinful tattoo artist.
A saint…
Lorenzo Cruz is a warrior, taught by his commanding officers in Eden that involvement equals distraction. Emotion is a liability, and desire a sin. In Sector Four, he finds decadence, shameless sex—and his own dark urges. No battle strategy prepared him for how Rachel makes his heart race…or the way his rival for her affections sets his blood on fire.
…and a sinner.
Ace Santana has a dirty reputation and a mind to match, especially where his new lovers are concerned. He's eager to help Cruz embrace his dominant side, and to explore the lines between pleasure and pain with Rachel. But corrupting them quickly becomes an obsession, a need he can't deny—and a love he never imagined.
Three hearts on the line means a hundred ways their ménage a trois could go wrong. After all, even O'Kanes do forever two-by-two. One of them could be the missing piece that makes them all whole…or a temporary diversion destined for a broken heart.
What worked for me (and what didn't):  I think it's fair to say that for fans of the series, this book is much anticipated. Ace and Rachel circled around each other for a while and things were looking pretty promising, when, inexplicably, Ace backed away.  Then Cruz joined the O'Kane Gang and he and Rachel looked set to have something going on but then she backs away from Cruz and next thing you know, Ace and Cruz are double-teaming women and Rachel is on her own.

They'd been living alternate lives, crossing just close enough to grind salt into the wounds because neither thought the other was bleeding.
The draw for the book is also perhaps its biggest weakness.  Clearly there is scorching chemistry between Cruz, Ace and Rachel.  All three of them are clearly very attracted to one another but something has been keeping them apart.  When, in Beyond Jealousy, Cruz proposes that they, all three, have a relationship, Ace agrees but he believes he's not good enough for either of them and that he is destined to be alone, so he doesn't really go all in. That's what's been keeping him away for the previous books and that's the heart of the conflict between the three in this book.  As conflicts go, it got a little old and I was ready for things to come to a head (pardon the pun) much earlier than they did.
That said, the rest of the book was great.  The sex was hot and dirty and hot and m/m/f is my favourite kind of menage to read.  I did feel at the end that Rachel wasn't the glue keeping them together (which was the vibe in the earlier part of the book where everyone was protecting themselves a bit) – that they all love each other for themselves, not as a conduit to another person.  There was some fun sexytimes between Ace and Cruz but I don't mind admitting I could happily have read a little more of that (hmmm, maybe there's a deleted scene? We can only hope).
The rest of the plot deals with a potential conflict between Rachel's father, Liam Riley, and Dallas O'Kane; about bootleg O'Kane liquor which is making its way into Eden.  This had been introduced in Beyond Pain and further developed in Beyond Temptation (but if you haven't read the novella yet, I think you can pretty much keep up) and things are brought to a head here.  There are also tantalising new threads which are being uncoiled and I think it's clear that Kit Rocha has major plans for further books.  The last chapter made me want the next book like now.
What else? I love the world building in the Broken Circle series. It doesn't feel like an info-dump but things are consistent and each book adds another layer to complex but easy to-understand-as-reader, world. I loved the way all of these elements, including the romance was brought together at the end. It was clever and sharp. The tension at the finale was realistic for the world and so good.
The best part of the book for me (apart from the sex between Ace, Cruz and Rachel – did I mention it was hot?) was the girl power evident in the story (although I will say that it would be nice to see some of the guys doing a sex show at the Broken Circle, not only/mostly the ladies).  The O'Kane women aren't weak.  They are powerful and smart and they don't need no men to protect them – they can kick ass just fine on their own.  And the brief portion of the book which was from Dallas' perspective was just wonderful.
This time would be different, and not just because Lex stalked at his side, brass knuckles glinting on her fists. He might regret not fighting her on this point, even though Lex was deadly when she wanted to be, and half the sector knew what Six could do to a man with her fists. Denying the women the right to defend their territory would discredit the ink he'd given them, and it sent a message he couldn't get behind anymore.

The sector wouldn't change until Dallas changed it. For Lex, he would. For Lex, he'd fight to his dying breath to make a world where she could do anything.
While I felt the conflict between Rachel, Ace and Cruz was a little drawn out all the other parts of the book worked really well for me. I liked Beyond Jealousy and I'm looking forward eagerly to where this author pair will take us next.
Grade: B

BUY IT:
AMAZON     KOBO
(It's not on Kobo yet – I will update the post when the Kobo link is live. In the meantime, you can get epub from Smashwords)