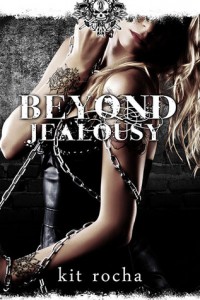 Why I read it:  I received a review copy from the author.

What it's about: (from Goodreads)   She's been looking for the perfect man. She found two.
When Rachel Riley sacrificed a life in Eden to protect the O'Kanes, she earned her place in the powerful Sector Four gang. But the former crime princess is tired of being everyone's sweet little sister . It's time for her to get wild, to embrace her fantasies as only an O'Kane can—with a delicious exiled soldier and the gang's wickedly sinful tattoo artist.
A saint…
Lorenzo Cruz is a warrior, taught by his commanding officers in Eden that involvement equals distraction. Emotion is a liability, and desire a sin. In Sector Four, he finds decadence, shameless sex—and his own dark urges. No battle strategy prepared him for how Rachel makes his heart race…or the way his rival for her affections sets his blood on fire.
…and a sinner.
Ace Santana has a dirty reputation and a mind to match, especially where his new lovers are concerned. He's eager to help Cruz embrace his dominant side, and to explore the lines between pleasure and pain with Rachel. But corrupting them quickly becomes an obsession, a need he can't deny—and a love he never imagined.
Three hearts on the line means a hundred ways their ménage a trois could go wrong. After all, even O'Kanes do forever two-by-two. One of them could be the missing piece that makes them all whole…or a temporary diversion destined for a broken heart.
What worked for me (and what didn't):  I think it's fair to say that for fans of the series, this book is much anticipated. Ace and Rachel circled around each other for a while and things were looking pretty promising, when, inexplicably, Ace backed away.  Then Cruz joined the O'Kane Gang and he and Rachel looked set to have something going on but then she backs away from Cruz and next thing you know, Ace and Cruz are double-teaming women and Rachel is on her own.

They'd been living alternate lives, crossing just close enough to grind salt into the wounds because neither thought the other was bleeding.