Why I read them:
After enjoying Getting Hotter, I was curious about how some of the other couples had gotten together and decided to finish reading the other books I'd picked up immediately after reading Feeling Hot.  It didn't take long, the earlier books are short and it remained what I was in the mood to read – a sexy, fun contemporary where I didn't have to think too much

with

low angst levels.
I have put them in order here, but I read them out of order (which was an accident related to all the titles being so similar) and was despite my best intentions (and which challenged my O

CD about such things).
What it's about: (from Goodreads) 
Letting her into his life is not an option. Letting her go impossible.

One look at Thomas Becker s seriously ripped body, and Jane Harrison is having trouble remembering why she tracked down the Navy SEAL. Oh, yes, that hot scoop for her magazine. Instead they get trapped in an elevator together and she gets sizzling hot sex.
After the delicious encounter is over, Becker s out of there, she s left off balance, and even more determined not to take no for an answer. Either for that interview, or another chance to find out if he always goes commando.One minute Becker is making it plain his answer is no. The next, he s using the only weapon at hand to calm her confined-space panic attack a kiss. And caving in to a fierce, unexpected need that wasn t even on his radar. Long term? Hell no not after the divorce that just spit him out. But a fling with the redheaded reporter with a brutally honest mouth and a body made for sin? Abso-effing-lutely.
Trouble is, when the week is over, she isn t even close to being out of his system Warning: Contents under pressure. Hot elevator sex, a redhead who knows exactly what she wants, and a Navy SEAL who can t help but give it to her. May cause spontaneous combustion. Be sure to fan yourself frequently.
What worked for me (and what didn't)
:
Thomas Becker isn't as sexually adventurous as the others in this SEAL group.  He doesn't have threesomes or fourgies.  However, that doesn't mean he doesn't have some moves when it comes to Jane.  I probably enjoyed this one the least out of the three because the conflict was essentially that Beck wanted Suzie Homemaker for a relationship and Jane is a career woman. (In later books – this may be mildly spoilier–ish

–

Jane falls pregnant and she's very happy about it but given the conflict here, I would have loved that to have had a little more exposition – just a bit about how she was going to combine motherhood and her career rather than just saying she was thri

lled.)
The best part of the book was seeing Beck bonding with his fellow SEALs – something he hadn't been able to do in the months

he'd been on their team.    
Having read Feeling Hot first – where Beck is getting all anal about his daughter's first birthday party and issuing lists of appropriate presents etc (which was really funny) it was kind of hard to reconcile

the Beck of this book with that one.  He wasn't uptight enough for me in this one I guess.
Still, a fun, easy, sexy read

.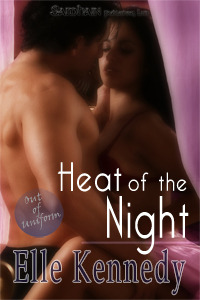 What it's about: (from Goodreads) 
When the heat is on, anything that can happen will.
When her long-time fiance breaks off their engagement, saying he needs to explore other avenues, Annabelle Holmes has no trouble reading between the lines. Bryce thinks she s a prude. Funny, since when it comes to acting out sexual fantasies, he s always been the squeamish one.Determined to prove him wrong, she sublets an apartment in San Diego, grabs pen and paper, and lists all her sexual fantasies. Intending to surprise Bryce with it as soon as possible. Only the list winds up in the wrong hands or are they the right ones?Navy SEAL Ryan Evans is expecting a little impromptu fun with his always-willing, blonde-and-leggy neighbor. But when he slides into her bed, he finds horrified, brunette-and-curvy Annabelle instead along with her naughty list.
Embarrassment doesn t begin to cover it when Annabelle realizes where her list has ended up. But then Ryan makes her a delicious offer: The chance to check off every last wild, wicked item with the help of his equally hot SEAL team buddy, Matt.
A harmless fling is easy to add to her list. Then something unexpected happens that s not so easy to cross off Warning: This title features a sassy heroine, a Navy SEAL hero, and a sex list being organized has never been so much fun! Be prepared for hot sex on the floor, in public, and even with someone watching
What worked for me (and what didn't): I love how sex-positive and girl-positive these books are.  There's no slut shaming here. (Yay!).  Ryan loves sex and spreads himself around (magnanimous of him isn't it?).  He's also totally accepting of a woman doing the exact same thing.  In this story Annabelle was a bit worried that doing some of the things on her "list" might cross the line into slutty and Ryan tells her straight that if it's between consenting adults it's all good.  And he lives it.  He doesn't just say it and then turn later, he

actually means it.
Ryan and Annabelle get together very quickly and there is a fair amount of suspension of disbelief needed I think (I'm not sure waking up to find a man in your bed would be the best precursor to a relationship with said man

, for example) but it's fun and sexy.
These three books are short – it wasn't until Feeling Hot that Ms. Kennedy started writing full length novels in this series. I have to say I prefer the longer format – there's more time for the relationship to develop, more opportunity for hot sex scenes and stronger charact

erisation.

 
Grade: B-/B
The Heat is On
What it's about:
(from Goodreads) 
As a Navy SEAL, Matt O'Connor specializes in Bad Boy. At least, that's what he thinks…until he finds himself face down on the floor during a bank robbery, arguing with a sexy, bad-girl blonde who wields her sharp tongue with surgical precision.
Just like that, Matt begins to wonder if maybe the idea of settling down with one woman isn't as crazy as he thought.Savannah Harte is addicted to first kisses and whirlwind romances. Once the thrill is gone, though, she's outta there. She's eager to follow the adrenaline rush she feels with Matt into the nearest bed, but when tangled sheets begin to feel like tangled heartstrings, her first instinct is to cut him loose. There's only one problem: Matt's not going anywhere. And not even a steamy threesome seems to dull her growing feelings.Which leaves Savannah having to decide what she wants more. The casual thrill of now…or the scary thrill of forever.
Product Warnings: This title features a hot threesome with explicit sex, a bad-girl heroine, and two Navy SEALs guaranteed to make you sweat.
What worked for me (and what didn't):
Matt

is a single man happily playing the field, getting his fill of many "chicks", sometimes with buddy R

yan

or Aidan and sometimes solo.  When he meets Savannah Harte though, he's met his match.  Savannah is the female equivalent of

Matt

and she's the first woman who's turn

ed him down. 
I don't normally go for game playing but in this book it's sexy and good hearted – as Matt desperately tries to convince Savannah to give a relationship between the

m a chance.
It's not super deep and it's short but it was fun and sexy and it was a very enjoyable way to pass an hour o

r so.

 
What else?  Can I also just say there is one circumstance where naming of body parts doesn't bug me – and it is when it is handled with humour.  Like here:-
Making a disapproving sound with his tongue, he reached down and firmly moved her hand. "No way. You don't get the little soldier again until after the next date."

She burst out in gales of laughter. "You have a nickname for your penis?"

"No," he lied. 
One final thing:  The phrase is bored with.  You are bored with something and tired of something.  You are not, ever, bored of, something.  However, "bored of" appeared multiple times in this book!  Argh! The grammar nerd in me got a headache. 
Still, this one was my favourite of the three –
I got such a kick out of Savannah being so sexually progressive and turning the

tables on Matt.
Grade:  B