On paper/ebook
Keeping Promise Rock by Amy Lane – B+  I love an angsty read and this one sure was that.  Carrick (Crick) and Deacon are close friends as boys (Deacon is a few years older and he and his father take Crick in because his own mother and step-Bob (that's what they call him) are scummy) and that develops into something more.  When they finally admit their feelings to each other (way past time they're legal – it's not squicky), Crick misunderstands something Deacon says and enlists in the Army and goes to the Middle East.  Although they are apart for a lot of the book, there was plenty going on and enough flashbacks and emails/tweets/phone calls/texts so that I didn't feel deprived (as I often do when the 2 main characters spend a lot of time apart – hated Sleepless in Seattle – what was up with that?).  Crick and Deacon make a family out of best friends, one of Crick's sisters and one or two other surprise additions along the way.   I really liked the family they created for themselves and the solidarity of that unit.  There's another book in the Promises series already out and I heard today that the author has just started writing another. Yay!
Simply Irresistible by Jill Shalvis – B+.  I reviewed this one near the end of October, so I won't go into much detail here – a funny sexy contemporary and my favourite Jill Shalvis book so far.

Flashback and Flashpoint by Jill Shalvis (both) – C.  These are 2 Harlequin Blaze's from 2008 set in fictional Santa Rey California and based on characters from Fire Station #34.  I enjoyed the romance aspect (who doesn't love a hot, sexy, firefighter?) but was impatient with the suspense plot involving a serial arsonist, which spread across both books (which doesn't really make sense, especially in the case of the second book because it was kind of integral to the relationship but still…)
True Vision by Joyce Lamb – C.  I won this book and it had an interesting premise – out of town cop is investigating the death of his friend, the witness is a woman who bears a striking resemblance to said dead friend (except he wants some smexxing with this one and didn't have those sort of feelings for the friend 0-o), who has suddenly developed some psychic powers – when she touches someone, she relives their most recent traumatic/passionate experience (makes for interesting smexxing!).  But, overall, it was, meh.  Okay but not great.  I mostly skimmed it but, I did finish it.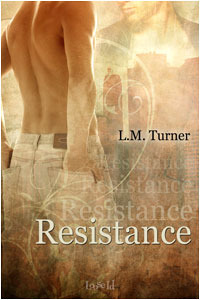 Resistance by LM Turner – B- Ryan is not into relationships and when he hooks up with the gorgeous Jayden one night he's flabbergasted when Jayden stays over!  Ryan doesn't do sleepovers or dates but there's some amazing chemistry with Jayden and he can't resist a repeat.  But, just when Ryan decides to give a relationship a go Jayden decides enough is enough and bails so Ryan has to open up and explain those messy things called *shudder* feelings (Ryan doesn't do feelings) in order to try and get Jayden back. (It might sound like I didn't like Ryan but actually I did, even if he was a bit of a jerk at the beginning.) Very good story but present tense isn't my favourite and I found it odd/mildly annoying that there was no description of the character in whose POV the story was told.
The Subtle Build of Perfection by LM Turner – B- Very good not very explicit ebook short story about a video store clerk and the customer who falls for him.   Shows the early development of a relationship and the "does he like me?" very well.
Hers for the Evening by Jasmine Haynes – C+ – I've only read the first 2 stories so far.  (There are 3 in total.) Both are hot little reads but suspension of disbelief is pretty necessary as they are based on the use of "Courtesans" an escort service and I imagine real life is vastly different!  


Last Night's Scandal by Loretta Chase – C+.  I don't know why, but I just wasn't feeling the love. The story and characterisations just felt thin to me.  I know I'm in a minority and others have just plain adored Lisle and Olivia's story.   I mostly love Ms. Chase's books but this one was a bit on the meh side for me.   🙁

Diving in Deep by KA Mitchell  – B-.  I continued my KA Mitchell glom this month.  This is Cameron and Noah's story.  It wasn't as strong on plot, IMO as other books in the series – it seemed more a series of hook-ups (which was Cameron's comfort zone) which over time developed into a relationship (where Noah wanted things to be).  Still, KA Mitchell writes engaging characters, sometimes humorous, sometimes angsty and then, there's the hotness, so still an enjoyable read.
Collision Course by KA Mitchell- A-.  This was a re-read as I realised during Diving in Deep that Joey (who is one of the main characters in this book) appears in the earlier story.  Joey is a sweetheart and Aaron is a hardass but together – they're smokin'.  There's more to this story than meets the eye – Aaron has had a difficult family life and has basically raised his younger siblings – dodging Social Services for some of that time because he was under age.  As attracted as he is to Joey, he doesn't love that Joey is a social worker.  Joey has to learn to try not to manipulate and Aaron has to learn to let him in. 


No Souvenirs by KA Mitchell – A.  This is the story of Shane ("Scuba Cowboy") and Dr. Jae Sun Kim (who, first appears in Collision Course and who Shane charmingly calls "Jay").  I liked this one even better than Collision Course and it ranks right up there with my other favourite KA Mitchell book, Regularly Scheduled Life.  This was also a re-read and I enjoyed it just as much as when I read it the first time.  There is kind of an "Open Water" experience toward the beginning of the book which brings the characters together emotionally and which I found gripping – even though it was a romance and therefore had a HEA (why would I read it otherwise?) I was really worried about what was going to happen to these guys.  It's no surprise they survive the ordeal and the rest of the book is about seeing if the holiday fling + trauma can be translated to everyday life.  The conflict is mostly internal – Kim struggles with letting someone in and Shane is afraid he's too much of a free spirit and won't stick around.  I really enjoyed this couple and I believed their HEA – they worked hard for it.  Seriously, I wanna hang around with Joey, Aaron, Shane and Kim.  
Hot Ticket by KA Mitchell – B-.  Cute sexy short story about two guys who meet while doing some community service.


Life, Over Easy by KA Mitchell – B-.This story is a bit different from KA Mitchell's other works.  For starters, there's a paranormal aspect to the story (a ghost) and then there's that the main characters are both much younger – I think they're both 21 or 22 and in college.  John Andrews was an Olympic diver who had a bad fall and now cannot dive anymore.  He has to work out what to do with the rest of his life and learn how to deal with people – he's been practicing/diving 12 hours a day for most of his life and he's inexperienced in the social department.  Mason, the other main character, lost his true love the year before and his struggling to come to grips with being alive.  (Guess who's the ghost?)   I did enjoy this book (especially the angsty bits), (even though it wasn't my favourite KA Mitchell) and I'm looking forward to the next one in this series.




Special Delivery by Heidi Cullinan – A.  This is another re-read for me – after I finished reading/re-reading all of KA Mitchell's books I wanted to stay with the m/m genre but I didn't feel like trying anything new.  I only read this for the first time a few months ago but I still enjoyed the re-read.  Mitch (another Mitch!) Tedsoe is a trucker who passes through the town Sam Keller lives, they hook up and Sam goes on the road with Mitch to get away from his evil witch of an aunt and needs-to-grow-a-spine uncle.  They end up in Vegas where they meet up with Randy – Mitch's kind-of ex.  This story is emotional, there's a full on marriage proposal (gay marriage is legal in Iowa, where Sam is from) and there's angst and smexxin'.   I especially liked how Sam grew up, faced what he needed to do and didn't let Mitch fix all his problems, while at the same time realising that he couldn't/didn't have to do it all on his own.  Randy is an interesting character – starts off as a total asshat but develops into something quite different.  (He gets his own story, with Ethan in Double Blind, which also features Mitch and Sam in supporting roles.  Ms. Cullinan is busy writing the third book in the series, where apparently they 4 go on a road trip searching for Mitch's half-brother.)  Sarah Franz has a more detailed review of Special Delivery (and indeed, Double Blind) over at Dear Author.  


I mentioned Moon Called in my September Reads post.  I'd had Moon Called in my TBR for a while, having heard so much about this series and having read and enjoyed Alpha and Omega and Cry Wolf  (the spin-off series about Charles & Anna) but had been a bit reluctant to try it because I was worried there wasn't enough romance for me. What was I thinking?  After I read Moon Called I went a bit crazy.  About half way in I knew I wanted to read the rest of the series but they took over 2 whole weeks to arrive from the Book Depository and I couldn't wait, so I haunted various libraries and borrowed them so I could glom.


Blood Bound by Patricia Briggs – A- This is the second installment in the Mercy Thompson series and where Mercy helps Stefan , her vampire friend (to whom she owes a favour because of events in book1) with a problem he's having with a vampire demon who eats people and messes with people's memories.  He's hoping Mercy's resistance to magic will be an advantage.   On the personal front, both Samuel and Adam want her as their mate and even Stefan harbours romantic feelings for her.


Iron Kissed by Patricia Briggs – A. Oh the angst! Someone is killing fae and they call in a favour (on account of events in book 2 – a pattern is emerging here…)The "love triangle" is resolved – it was just a little bit convenient but no-one gets hurt which is good because I like both Adam and Samuel and Mercy's just about to act on her choice when something awful happens and even though I knew it was coming (on account of that I read a spoiler by accident a while back) I was shocked, appalled, traumatised and heartbroken by osmosis.  Mercy kicks ass anyway (cause she rocks and is teh awesome) and  Adam, like a true hero, comes through big time but I went a bit nuts to get my hands on the next book immediately because I just couldn't leave it where the book finished – I would have been certifiable if I had read this when it was first released and had to wait for for the next installment.  Because of how involved and attached I was in this story, this one is the best so far but I needed book 4 like sorbet…


Bone Crossed by Patricia Briggs – B+/A-. From the grade, one could be forgiven for thinking that this was a bit of a let down compared to the earlier books. Not true.  It wasn't as angsty (which was just as well as I don't think my heart could have taken it) but there was still trauma and threat and Mercy kicking ass (of course).  I'd describe it as the story that had to come after the rollercoaster that was Iron Kissed – the impact that book had on me, well this one was never going to get to the same heights (and I wouldn't have wanted it to – then I would have thought that the author was just being mean to her character.)  In this story, the vampires are mad at (ie, have a death wish for) Mercy, having realised what actually happened in book 2 and Mercy is getting over (or trying to) events in book 3 so she getting out of town seems like a good idea – Mercy goes to help a friend with a ghost problem in Spokane (which is unfortunately controlled by a single nasty vampire, who naturally zeroes in on Mercy).  Adam is divine. I want one.  
Silver Borne (book 5) in the series arrived a few days after I finished Bone Crossed but it is the last one for a while so I thought I'd save it.  I'm reading it now and I'm trying to read slowly but so far, it's not working.  I might have to listen to the audio versions once I finish reading the books because I think I have a bit of a wait for the next instalment in the series. An excellent, excellent series.  
ETA – Less than 90 days until River Marked is released… can't wait (and yes, it's already pre-ordered!).
On audio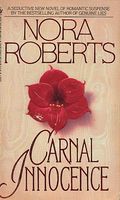 Carnal Innocence by Nora Roberts, narrated by Tom Stechschulte – B-. I enjoyed the narration and Tucker Longstreet was a gorgeous sexy lazy Southern charmer but the plot had too much going on and it wasn't my favourite NR.  (Is is just me or did Tucker sometimes sound a bit too much like Foghorn Leghorn? *shrugs guiltily*)
After the Night by Linda Howard, narrated by Natalie Ross – DNF.  I stopped listening after a few hours.  The narration was fine but I was just not into the story.  It's a family saga with dark secrets kind of story and not my favourite.  I have so many other things to listen to and I'd rather be listening to something I enjoy.  Having listened to the first few hours, I remembered that while I did finish the book, I didn't love it either.
Natural Born Charmer by Susan Elizabeth Phillips, narrated by Anna Fields – A.  Great book, excellent audiobook.  I wasn't one of those who thought Blue was annoying and abrasive (I only just found out that some people thought that). I liked her from the beginning – she reminded me a little of Heaven, Texas' Gracie Snow.  Plus, Dean Robillard.  Yum.  Anna Fields, was excellent as usual.
Dream Man by Linda Howard, narrated by Phil Gigante A-  Classic Linda Howard, excellently narrated by Phil Gigante.  Dane Hollister (what a cool name) is a cop investigating (what will become) a series of murders and Marlie Keen is a psychic who sees through the eyes of the killer when he's doing the deed.  Great book, better on audio.  (Although, I think Lisa Marie Rice may have got the idea for her heroes – and I mean this in the nicest possible way –  from this one – big alpha male, just about stalkerish behaviour with a constant hard-on for the heroine – sound familiar?)
Now You See Her by Linda Howard, narrated by Laurel Lefkow – B-.  This was one of the first Linda Howard books I read and it didn't hold up as well on re-read (listen?).  It wasn't helped that the copy I had was faint and hard to hear (this is hard to get and I picked it up from a kind friend – not her fault that the quality was a bit down as it had been transferred from audio cassette).  Dream Man was better.