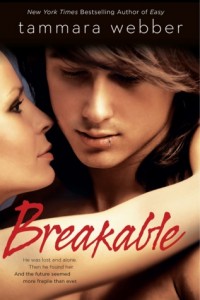 Why I read it:  I finally got around to listening to Easy on audio.  When I was browsiing my TBR for what next to read, I felt it was the right time to read this one.  I bought it when it first came out but the timing was never quite right before.

What it's about: (from Goodreads)  He was lost and alone. Then he found her.
And the future seemed more fragile than ever
As a child, Landon Lucas Maxfield believed his life was perfect and looked forward to a future filled with promise — until tragedy tore his family apart and made him doubt everything he ever believed.
All he wanted was to leave the past behind. When he met Jacqueline Wallace, his desire to be everything she needed came so easy…
As easy as it could be for a man who learned that the soul is breakable and that everything you hoped for could be ripped away in a heartbeat.
Warning: Spoilers for Easy follow.
What worked for me (and what didn't):  I think part of the reason it took me a while to actually read the book was that I was a bit scared I wouldn't like it.  I adored Easy.  Would Breakable be a re-hash? Would it be boring?  Would it somehow retroactively impact my enjoyment of the first book? As it happened, I was very much feeling the NA love after successful reads from Kristen Callahan and Sarina Bowen. Being up to date on my audiobook reviewing commitments (which is kind of unprecedented but yay me!) I decided to revisit Easy via the audiobook which was waiting patiently on my TBL.  And, about halfway through the listen, when I was searching my TBR for my next read and I was all caught up in the Lucas love, I thought – well it's time.  And there was a beautiful symmetry to listening to Jaqueline's perspective and reading Lucas's.  I think it wouldn't have worked as well if I hadn't already read Easy and it probably helped that I was halfway through the listen before I cracked open the book – because I never caught up to Lucas' POV but I also had Jacqueline's perspective fresh in my mind when I read reading.  In the end, for whatever reason, none of my fears were realised and I enjoyed the heck out of Breakable. I'd say it's not quite as good as Easy because it essentially tells the same story but in more detail and from another perspective.  So it's not entirely "fresh and new" (although there are aspects of the story which are).  But it wasn't boring and it didn't feel like just a "re-hash" either. If anything, it made me love Easy more.