Monthly Mini Review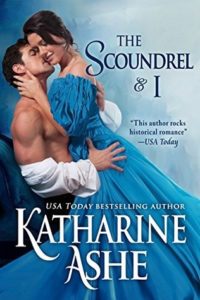 The Scoundrel & I by Katharine Ashe – B Elyssa Patrick was singing the praises of this novella and, as it was only 99c, I snapped it up. While I didn't love it quite as much as Elyssa did, I did enjoy my time spent with Gabriella (Elle) Flood and Captain Anthony Masinter. The Scoundrel & I is a spinoff novella (from the author's Falcon Club series) but stands alone well. I expect there will be quite a few readers using this book as a gateway in fact.
Elle works in a printer's and has been left "in charge" when the owner and his family go on two week's holiday. And, by "in charge" I mean she is in the shop for reasons which are not made clear, as she's not allowed to do any actual printing herself. Nonetheless, she resolves to take home the print "chase" for the latest women's rights pamphlet from Lady Justice so her blind and ailing grandmother can read the type with her fingers. (The backstory doled out along the way explains how this is relevant). Unfortunately, on the way home, Elle is startled by a rider and drops the chase, losing 53 pieces of type and destining her for unemployment at best and prison at worst.
Anthony, when he realises a couple of days later what he has done, resolves to help Elle to restore the type before her employer returns from holiday. Thus restored, no-one need ever know she took the chase out of the shop at all. Used to captaining a ship, Anthony does tend to take charge, even if Elle is not at all keen on having his help – at least, not at first.