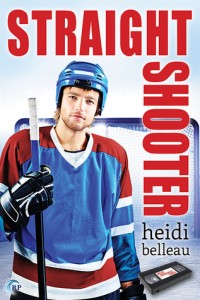 Why I read it:  I received a review copy from the publisher via NetGalley.

What it's about: (from Goodreads)  This macho jock has a crooked little secret.
College hockey player Austin Puett is in trouble. Unless he starts treating his flamboyantly gay roommate with respect, he'll lose his room and his job at Rear Entrance Video. But Austin's got a not-so-straight secret of his own: nothing turns him on more than insults implying he's gay—even though he's definitely not!—and all his old coping methods have stopped working.
Pure desperation drives him to rent a Mischievous Pictures porn flick about straight men tricked into servicing Puck, a male dominant. Instead of letting off steam, though, it just leaves him craving more, more, more, and suddenly, Austin finds himself at Mischievous Pictures Studios for an audition. After all, you can be Gay For Pay and still be straight . . . right?
But meeting Liam Williams, the real person behind Puck, confuses Austin even more. Liam really seems to like him as a person, and Austin likes him back. And while Gay For Pay's okay, what does it make Austin if he still wants Liam when the cameras aren't rolling?
What worked for me (and what didn't):  I'm not sure exactly what to say about this novel. Any review is necessarily the reviewer's personal reaction to a book but my thoughts about Straight Shooter ended up being a bit more about me than the usual review I write.  The story caused me to examine some things about my own thinking and because it's my blog and I can and because it's my honest reaction, that's partly what I'm going to talk about here.  I like books that make me think and critical thinking works inwardly as well of course.