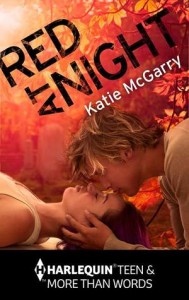 Why I read it:  I'm a fan of Katie McGarry's books.  This book is available free from Harlequin or Amazon.

What it's about: (from Goodreads)  In Red at Night, Stella and Jonah are total opposites. She's the girl with purple hair from the wrong part of town. He's a high school senior who hangs with the cool crowd. Until a car accident leaves him haunted by guilt, and Jonah starts spending time at Stella's favorite refuge…the local cemetery.
Stella knows she should keep her distance—after all, she spent her girlhood being bullied by Jonah's friends. Once he's sorted out his tangled emotions, Jonah won't have time for her anymore. Too bad she's already fallen for him.
What worked for me (and what didn't):  Inspired by Nikki Berta who runs the Goodie Two Shoes Foundation which provides free shoes to children in Nevada (and they get to choose their own shoes from a wide selection), this story is part of Harlequin's More Than Words project.

Both Stella and Jonah are in their senior year of high school  Stella lives with the sometime-girlfriend of her father.  Her father is mostly absent and her and Joss (the sometime-girlfriend) are not remotely wealthy.  Joss tells Stella not to dream or hope because people like them are destined to stay where they are and college and getting out from under is for other people.