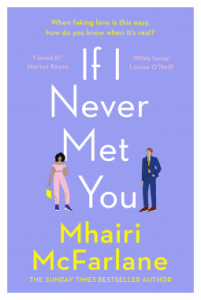 Why I read it:  I've been meaning to try this author for ages now and I love a fake relationship.
What it's about: (from Goodreads)  When Laurie's partner of eighteen years, Dan, dumps her to 'find himself' (and leave her on the shelf at 36), she is blindsided. But not as blindsided as when he announces that his new girlfriend is now pregnant.
Working in the same office with Dan is soon unbearable – until the day she gets stuck in the lift with her handsome colleague Jamie. Jamie is looking for a way to improve his reputation in the company and what better way for Jamie to advance and Laurie to give the rumour mill something else to talk about than a fake relationship?
As Laurie and Jamie progress from Instagram snaps to dates, dancing and more, Laurie feels herself falling further for her unlikely hero. But you can't break your heart in a fake relationship. Can you?
What worked for me (and what didn't):  Even though this is a romance and there is most definitely a HEA at the end, the romantic relationship between Jamie and Laurie takes a very long time to get going. When the book begins, Laurie is still with Dan and then it all hits the fan. Then she's heartbroken and it takes a while before Jamie and she get stuck in a lift (which sparks, eventually, the idea to have a fake relationship).  If I didn't dislike the term I'd say this was more "women's fiction". The book is as much about Laurie's own journey to rediscover herself than her relationship with Jamie. In many respects, the former is far more detailed.