Monthly Mini Review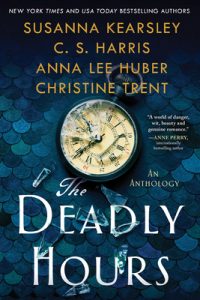 CW: torture/abuse in interrogation
Siren's Call by CS Harris C Siren's Call is the fourth and final novella from The Deadly Hours, a multi-author anthology of historical mysteries with at least some romance, connected by a cursed gold pocket watch called "La Sirène". I had expected (maybe even hoped for) a Sebastian St. Cyr novella but Siren's Call has completely new characters and is set in June 1944 just after the D-Day landings. Rachel Townsend-Smythe, daughter of a prominent family in New Godrick in Kent, discovers the dead body of her elderly friend, Major Henry Crosby. Rachel is a museum curator, she had hoped to finally convince the major to store some of his treasures (including the watch case which once held La Sirène in safety from potential German bombs. It is apparent the major was murdered and it turns out, the watch case is missing.
Jude Lowe, former spitfire pilot injured in the war turned MI5 agent is in New Godrick with a colleague looking for a spy after the military had intercepted a series of coded messages emanating from the area.  Given Major Crosby's recent duties with the Royal Observation Corps, there may be a connection to the spy and the murder so he ends up investigating.
The mystery itself is well done and an enjoyable story. There is a hint of romance which ends happily but I wouldn't call this novella a romance. Most of the courtship between Rachel and Jude happens off page and in the space between the mystery being resolved and the brief epilogue. The main thrust of the story is the mystery, which is solved in only a few days. I don't judge the story by the romance (or lack thereof) however, because I approached the anthology as a series of historical mysteries.
However, there was one aspect to Siren's Call which gave me pause and it did have an effect on how I viewed the romance as well as the story overall.  It's a  mild spoiler so look away know if you don't want to know.