Monthly Mini Review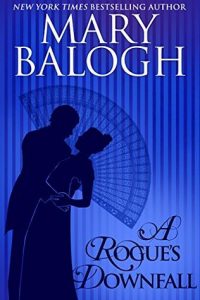 A Rogue's Downfall by Mary Balogh – C+/B- I pick up Mary Balogh's old Signet Regencies as they become available electronically. Some are better than others. A Rogue's Downfall is a collection of three novellas which were originally published in multi-author anthologies between 1993 and 1995 and falls somewhere in the middling range overall.
The Anniversary tells the story of a rake who compromised a debutante and ended up married with a baby. Hugh Reardon, Earl of Richmond, feels guilty for his conduct and stays away for most of a year. In fact, he thinks of what he did as rape but it is clear to readers that Amy was entirely willing. I did not find any dubious consent in the story but I did appreciate that he wondered about his conduct and felt guilty and actually named it in his mind as rape. Perversely, if he was as bad as he thought he might have been he'd never have considered the term as applying to him. In any event, he had loved her from afar and has been true to his marriage vows. He longs fro his wife and son and tries to woo her of the course of the day of their "anniversary" (ie the anniversary of sex, not the wedding). While he does not regret their marriage he wishes what led to it had been different and so he tries a version of a do-over. Amy is, understandably, initially suspicious but as she loved him prior to their encounter too, she's by no means immune to his charms. The story is sweet, full of inappropriate servants and could have been longer but I liked it well enough.
The Wrong Door is the story of Alistair Scott, notorious rake who, in attempting to visit a certain willing widow at a house party finds himself going in the the wrong door and instead getting into bed with Caroline Astor, a virginal virtuous young woman. Of course this means that Alistair must offer for her. Mary Balogh is nothing if not brave as a writer. In some respects, Alistair's conduct is confronting indeed. He gets into bed, naked with a stranger in the dark and proceed to kiss and caress her. It is only that Caroline has been secretly in love with Alistair (foolishly and from afar) and was dreaming about him at the time (to the point of murmuring his name when he first kisses her) that it was in any way okay. Once Caroline wakes up she fights him off (not that he tries any force at all at any stage) and her valiant maid punches him in the snoot. But still, looked at from 2021, it's not hero behaviour (if it ever was in the 1990s). There's a fair bit of hand waving to propriety when Caroline and Alistair are allowed to spend time together (before she is betrothed to him as well) as she contemplates his offer but I couldn't be too sad about it. In the end I believed him and his love for Caroline. I also appreciated that Caroline quickly realised that what she had previously felt was infatuation – she didn't even know him, but as they get to know one another she tumbles (with him – and both very (and too) quickly, but: novella) into love. I liked Caroline's spine which made it easier to like Alistair.
Precious Rogue is the bravest of the novellas and a bit of a mixed bag – in some ways it was the one I liked the most and in others it was the one I liked the least. Joshua Bancroft is very much the rake. He spends the house party which is the setting of the tale, bonking or trying to/planning to bonk, various women. They were all very willing at least but again, for a "hero" to have sex with someone other than the heroine during the course of the story is rare enough and for the heroine to know about it and it not be a source of contention particularly is astounding. I have to acknowledge the bravery and unusualness of it even when it didn't always work for me. Bancroft is not always nice. He is not very honourable in the general sense of the word. He comes around in the end of course but the entire novella is only about 50 pages and for most of that he's sexxoring other women and has no intention of anything romantic with our heroine, Patricia. It is also a bit of a Cinderella story and those were probably my favourite parts because I'm always a sucker for a hero "riding to the rescue". I should probably be a little ashamed of that but life's too short. Where the story was the least successful for me was in the fatphobia contained within it and that Joshua doesn't seem to do much asking when it comes to his conduct as regards Patricia –  he does far more telling. Patricia is a victim of circumstance (but not a victim of Joshua I hasten to add) but she doesn't suffer Joshua's blandishments and calls him out on his behaviours plenty. Can the reader believe that he has truly changed his ways and will be faithful to Patricia? Well, even he acknowledges it's a big ask – but he believes it, in his heart. I probably only did because I'm a romance reader and I need my HEA.
I read the anthology in three bites, completing a story each night and I was happy enough to read all of it. But the novellas are all sadly dated now, looked at through a 2021 lens. My overall grade is somewhere between a B- and a C+.
Reviews of these books will be up soon at AudioGals.
Links