Monthly Mini Review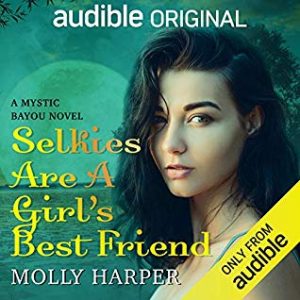 Selkies Are a Girl's Best Friend by Molly Harper. Narrated by Amanda Ronconi & Jonathan Davis – B Sonja Fong has moved to Mystic Bayou to help her best friend Jillian Ramsey with running the office for the League for Interspecies Cooperation. The daughter of a Chinese diplomat-type father and a Russian particle physicist mother (I'm not entirely convinced the model on the cover is an accurate representation of her ethnicity), Sonja is scarily competent, fearfully organised and super smart. She's also gorgeous, kind and generous.
Will Carmody is a Mystic Bayou native and selkie shifter. He's been away from the bayou for decades but has recently returned. He's a doctor and the town desperately needs one. Jillian is delighted to offer him a job with the League as the town's doctor and Sonja helps Will organise his new premises and get all set up.  They don't get off to the most auspicious start but this is quickly sorted out and they start working together and exploring their chemistry and growing attraction.
The main conflict between them is Will's fear (born from witnessing the trainwreck that was his parent's marriage) of being trapped by his selkie pelt.
In amongst that is the ongoing mystery of the ever-expanding Rift which is causing humans to spontaneously develop supernatural abilities and the League's ongoing research into it and their attempts to stablise and minimise the Rift. Sonja finds herself at risk after she begins investigating some shifty financial dealings. While the mystery contained in this book wasn't particularly hard to decipher, there were some interesting developments with the wider story arc and I'm curious as to how it's all going to work out.
I enjoyed the interaction between Will and Sonja and, even though I haven't described it super-well above, the conflict they worked through made sense in the context of the story. I found myself in sympathy with both of them. However, there were some things which felt a little unresolved by the end of the book. Among other things, I wanted to know more about how Will and Sonja could have a long term future and I was curious as to why she was given Chess Pie at the Sweet Shop until she was settled into a relationship with Will (I have a guess though).
The narration was excellent, as usual. Both Amanda Ronconi and Jonathan Davis are fabulous in this series. Mr. Davis has a wonderfully deep voice and particularly excels when it comes to delivering the hilarious banter between Will, Bael and Zed.
The heat level on this one was a bit lower than in previous books but the story was fun and entertaining and well worth my credit for the narration alone. It's also available in Audible Escape.
BUY IT:
AMAZON
Coming Soon
on Audio
Reviews of these books will be up soon at AudioGals.
Links