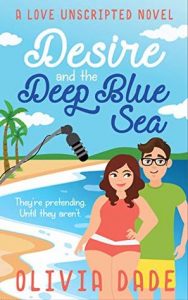 Why I read it:  I pre-ordered this one as soon as it was up and recently carved out time to actually read it.
Content Advisory: Anxiety
What it's about: (from Goodreads)  They're pretending. Until they aren't.
Thomas McKinney has never wanted a woman the way he wants Callie Adesso. Since she started working alongside him at the Colonial Marysburg Research Library, he's spent his desk shifts fumbling pencils, tripping over his own feet, and struggling to remember both the Dewey Decimal System and the existence of her inconvenient boyfriend. Now, however, Callie is suddenly single–and in need of a last-minute faux-boyfriend for an episode of HATV's Island Match. Thomas is more than happy to play the part…and in the process, convince Callie that a week together isn't nearly long enough.
Callie has never found a man as irritating as she finds Thomas. He may be brilliant, kind, and frustratingly handsome, but the absent-minded librarian also makes every workday an anxiety-inducing exercise in stress. Even seven days in paradise by his side won't change her opinion of him. Really. No matter how attentive he is. And gentle. And sexy.
One plane ride later, the two of them are spending long, hot days under the sun and on display, pretending to be in love for a television show. This may be a vacation, but it's also an act–as well as Thomas's last chance to persuade the woman of his dreams to include him in hers. And soon, the island heat isn't the only thing steaming up HATV's cameras…
What worked for me (and what didn't):  Thomas McKinney was such a delightful hero. It was something of a surprise actually because initially I only had Callie's description of him and he was certainly making life very difficult for her at work. It all came from a place of good intentions and being lovestruck and it could also have easily turned into way-not-okay stalker territory. Callie has only been at the library for six months. She struck up a friendship quickly with Thomas but became frustrated with him because he's very bad at multi-tasking and tended to get caught up in whatever question he was asking for a patron and taking ages to do it. This left Callie doing most of the actual work and not getting many of the interesting questions to answer. Callie has been trying to work with other librarians for the past few months but for some reason she is always on shift with Thomas. This has meant she has had little chance to build relationships with anyone else and has been very isolating for her. So, initially, Thomas comes across as a bit of a jerk.
But Thomas is so smitten by Callie he just wants to be around her all the time. He's noticed that she has been unhappy but he hasn't made the leap to realising that he is the cause of it (or, at least, a cause of it). To his credit, when he eventually finds out, he puts Callie's needs before his own and it was this that made him "not a stalker/creep".
Callie had been dating Andre but things hadn't been going well for some time. They had been due to appear on a reality TV show, Island Match. Callie had been looking forward to it as a free holiday but when Andre splits with her the week before they're due to go to the first island, he is devastated.
Rather improbably, Thomas has holidays at the same time as Callie and she asks him to join her and pretend to be in a relationship with her, in a last ditch effort to salvage her dream vacation. Thomas's reaction is ridiculously sweet.
As far as he knew, he hadn't tossed a coin into an enchanted well, procured a potion from a witch, or fondled a lamp of mysterious provenance. But he could think of no other plausible explanation for these miraculous turns of events, so maybe he'd missed something.
On the island, it quickly becomes clear to Callie that Thomas has deep and real feelings for her and she is amazed by them.
"In summation, everything about her attracted me. She's energetic and witty and kind to everyone, unless they try to return books stained by cat urine. She's frighteningly intelligent and competent. And of course, she's obviously beautiful. So who wouldn't be attracted to her? There are probably people in the future desperately trying to invent time travel so they can come back to the twenty-first century and meet her."
Thomas says and thinks stuff like this all the time. He is wholeheartedly devoted to Callie and, because she ends up returning those feelings, it is just a cinnamon roll delight.
As they enjoy the various islands the visit for the TV show, Callie remembers what attracted her to Thomas initially. She was dating someone then of course so hadn't allowed herself to go there. But now they're both single and she opens up to possibility.
Callie has anxiety and she hates confrontation of any sort. Over the course of the book however and with Thomas's encouragement, she finds herself able to stand up for herself and set boundaries a little better. Thomas is so sweet – he doesn't try to fix things for Callie; rather he asks her what she needs or would like and then acts on her wishes. It's hero wish-fulfillment at its greatest.
The epilogue was a little too saccharin for me, as much as I liked Thomas (and Callie for that matter). It was good to see that the work issues had not been ignored but it was a little too much cinnamon for me at the end.
What else? The entire book is only just over a hundred pages long. The novella length suited the story well, with the short time frame of the main story and that there was an existing relationship (albeit not romantic) between the main characters and the entire tale is tightly focused on Callie and Thomas.
Callie is fat. Thomas loves Callie's body and Callie is body confident notwithstanding her anxiety. She dislikes confrontation but she's happy with her looks. I appreciated the representation very much, both in terms of body positivity, fat representation and disability representation (anxiety).

The story is sweet and in many ways fluffy even though Callie's anxiety is a significant issue for her.
I liked Desire and the Deep Blue Sea very much. Both main characters were great and Thomas made my heart squeeze. It was a little too sweet at the end but other than that, it was a charming delight.
Grade: B+