Monthly Mini Review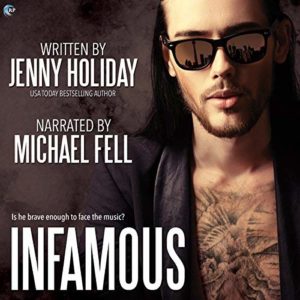 Infamous by Jenny Holiday, narrated by Michael Fell – A- On the face of it, Infamous isn't a particularly revolutionary story: slow burn romance between an out gay guy and a bisexual rock star whose image is decidedly straight. But what it does it does very very well. It delivers all the feels and kept me glued to my earbuds.
Rocker Jesse Jamison has made a deal with the manager of his dreams to tow the line and stay away from liaisons with men in order to project the ideal image for superstardom. After meeting Dr. Hunter Wyatt, a paediatric hospitalist on the way to Toronto one day, the pair strike up a somewhat unlikely friendship. The book skips forward two years after that initial meeting and the bulk of the story takes place as the pair become buddies and when Jesse's career has really taken off. Hunter left a relationship with a closet case in Montreal and moved to Toronto for a fresh start. He won't go back in the closet for anyone – not even Jesse.
It's not really a surprise what happens but this is one of those cases where the what isn't as important as the how. The characterisations are strong, the connection between the two men is built up over a long period of time and is based on a solid friendship that is completely believable notwithstanding their differences. While I was dismayed by the predictable black moment I was pleased that Jesse's decision to come out was about being himself and not "for" anyone and it was a book where the grand gesture had appropriate context and worked really well.
While Infamous isn't a new story within the queer romance genre it is an exceptionally good one and the narration by Michael Fell only adds to it. There were a few vocal errors scattered throughout the performance and it's fair to say his female voices weren't always stellar but he completely wowed me with his portrayal of Hunter and Jesse as well as making me laugh with the depiction of hilariously out-there band member Billy, with the bedbug-phobia.
I had a couple of queries with the timeline. I didn't think it quite fit that Jesse couldn't afford flights from Montreal to Toronto when he met Hunter on the train but then two years later he's rolling in money. I wasn't sure where the cottage he'd bought "a few years ago" fit in either. However, apart from that, I completely enjoyed the story. I liked that Hunter stuck to his guns when it came to not going back into the closet and I liked that Jesse was always at least a little bisexual – this isn't a gay for you story.
There was plenty of romantic tension all throughout the book and a delicious slow burn to the romance with a wonderful payoff. This was one of those audiobooks I didn't want to stop listening to. Highly recommended.
BUY IT:
AMAZON
Coming Soon
on Audio
Reviews of these books will be up soon at AudioGals.
Links