Monthly Mini Review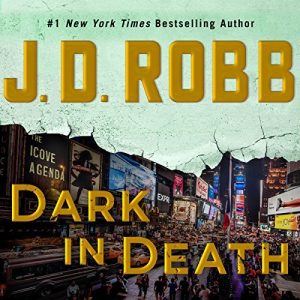 Dark in Death by JD Robb, narrated by Susan Ericksen – B- I'm still in for this series but Dark in Death was one of my least favourite books so far. In terms of romance, there wasn't any conflict or tension between Roarke and Eve. They're happy, having great sex and enjoying their marriage. That's good and it's not exactly that I get sick of it, but at the same time, I'd like a bit of conflict (with a happy resolution of course!) to shake things up a little. The main issue I had with the book however is the premise. A killer is recreating murders from a police procedural series and particularly the section where Eve is interviewing the author and talking about fan expectations and the challenges of being an author were just too meta for me. (I had a similar issue with the latest Suzanne Brockmann.) I can't help but feel like the actual author is talking to the reader this way and even if that is only in my imagination, it makes me uncomfortable. There wasn't really anything objectionable in what was said but I want to be immersed in the story and forget about the author altogether when I read/listen and I couldn't here.
The other thing to mention is that a member of Eve's squad, Jenkinson, uses a transphobic slur twice in the course of a conversation with Eve and there was zero narrative pushback on it. I do not accept that such slurs are okay in 2062 – they're certainly not okay now. I dearly wished Eve would have told Jenkinson off about it.
So that seems like a lot of criticism but I want to add that the book wasn't bad by any stretch. It certainly held my attention and wasn't a waste of my credit. It just wasn't the best offering in the series. Susan Ericksen's narration was, as usual, excellent. I'm hoping Morris gets his HEA at some point soon and I liked the developments with Jake and Nadine and Nadine and Quilla. Oh, I'd like more of Jake for sure!
BUY IT:
AMAZON
Coming Soon
on Audio
Reviews of these books will be up soon at AudioGals.
Links