Monthly Mini Review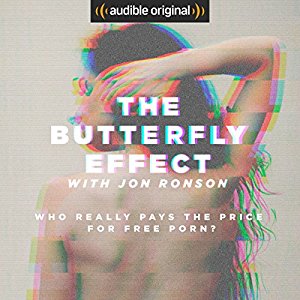 The Butterfly Effect with Jon Ronson – B The Butterfly Effect isn't a romance. It's not even fiction. It's a fascinating series of short podcasts bundled together and currently available from Audible for free. Documentarist Jon Ronson embarks upon a year-long study into the porn industry and the effects of a decision by a German man by the name of Fabian, to start streaming porn on the internet for free. While it's about porn it's not sexy or erotic (although due to the content it's NSFW). It's about what happened to the porn industry in the San Fernando Valley when Porn Hub, X Tube and the various other free porn streaming services began (they're all owned by the same company, based in Montreal by the way) and ranges through topics such as bespoke porn, the subsequent boom in high quality sex dolls, the Ashley Madison hack and online piracy.
It began when Ronson had a revelation regarding how porn stars are commonly shunned in public but nonetheless craved in public; how people who work in the porn industry are regarded by consumers as commodities but not people. One quote which stuck with me was from a girl who likened not wanting to learn the names of the actors and actresses she watched performing porn in the same way one doesn't name a deer one is planning to kill and eat. There was also the sad story of a guy who left the porn industry to become a nurse but then was pushed out of his job because online piracy meant his movies were all over the internet for free and people were recognising him at work. The whole thing runs about five hours but each episode is about 30 minutes. It's well produced and interesting. Recommended for those looking for something a bit different.
GET IT:
AMAZON
Coming Soon
on Audio
Reviews of these books will be up soon at AudioGals.
Links