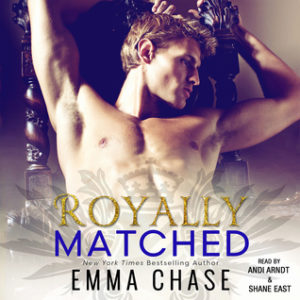 Why I read it:  This is one from my own TBL.

What it's about: (from Goodreads)  Some men are born responsible, some men have responsibility thrust upon them. Henry John Edgar Thomas Pembrook, Prince of Wessco, just got the motherlode of all responsibility dumped in his regal lap.
He's not handling it well.
Hoping to help her grandson to rise to the occasion, Queen Lenora agrees to give him "space"—but while the Queen's away, the Prince will play. After a chance meeting with an American television producer, Henry finally makes a decision all on his own:
Welcome to Matched: Royal Edition.
A reality TV dating game show featuring twenty of the world's most beautiful blue bloods gathered in the same castle. Only one will win the diamond tiara, only one will capture the handsome prince's heart.
While Henry revels in the sexy, raunchy antics of the contestants as they fight, literally, for his affection, it's the quiet, bespectacled girl in the corner—with the voice of an angel and a body that would tempt a saint—who catches his eye.
The more Henry gets to know Sarah Mirabelle Zinnia Von Titebottum, the more enamored he becomes of her simple beauty, her strength, her kind spirit… and her naughty sense of humor.
But Rome wasn't built in a day—and irresponsible royals aren't reformed overnight.
As he endeavors to right his wrongs, old words take on whole new meanings for the dashing Prince. Words like, Duty, Honor and most of all—Love.
A major spoiler for the previous book follows – proceed at your own risk.
What worked for me (and what didn't):  There really are some weird and unusual names in the British aristocracy. Even though this is Wessco (is it supposed to stand for "West Scotland"?), I think Sarah's name is meant to poke a bit of fun at them. Although the "von" seems out of place even in a fictional country like Wessco.

I enjoyed Royally Screwed when I listened to it recently. I didn't adore it as others had before me but I hadn't actually thought it would be my cup of tea at all so I guess it started behind the line. Fictional royalty isn't something I go out of my way to read or listen to – it's too easy for me to think of the actual British royal family.  Still, it was rated so highly, that I ended up giving it a go and it turned out to be a good listen.
Spoiler Alert: At the end of the first book, Nicholas abdicated his role as Crown Prince of Wessco, thus elevating his younger brother Harry Henry to the position. It was a bit of an asshole move actually because he did it without any consultation with or thought for Henry and how he might feel about it. In Royally Matched, Henry isn't coping all that well with the transition from playboy who gets away with messing up on charm alone to the more responsible role of Crown Prince. After putting his foot in it once again and getting a thorough dressing down from his grandmother, Queen Lenora, Henry goes on a bender and is then banished to a remote castle to get his head together.
His brilliant idea of one last "fling" is to accept the proposal from a US TV producer to star in the royal edition of "Matched" a Bachelor-esque reality TV show. It has to be a complete secret because the Queen would have apoplexy but Harry Henry thinks it will be fun and he expects plenty of opportunities to get the leg over during the filming. Yeah, Henry isn't the best guy at the start of the story.
Sarah Von Tittebottum is a librarian and a daughter of Wessco aristocracy. It is her younger sister, Penny, who is invited to be on the show however. Their mother only lets Penny attend if Sarah goes along as an assistant-cum-chaperone. Penny is a bit like Harry Henry – she tends to get into a lot of trouble. Penny has no desire to be the next Queen of Wessco – she wants to leverage the TV appearance for acting/modelling gigs.
Henry finds that reality TV doesn't involve much reality and, as there is a requirement that the fiance of the Crown Prince be a virgin (complete with mandatory medical exam), there is a "no sex" rule on set. He is crushed. It doesn't matter that many of the contestants are not actually virgins – the show is trying to sell a fantasy.
Henry starts off being friends with Sarah and his initial quiet attraction to her becomes full blown after not very long. Sarah is shy and introverted and doesn't have ambition to be Queen either. Moreover, as a lover of classical literature, she is holding out for a "Colonel Brandon" and she sees Harry Henry as a "Willoughby".
There is a sniff of big misunderstanding toward the end of the book and I was a bit surprised that it wasn't ironed out on the page. Either it turned out to not be important or the listener was to assume the conversation I suppose. I'd have liked it more explicitly dealt with.
However, given the extreme fantasy of the plot, I was pleased that the ending had a lot more depth to it than I had been expecting.
What else? Andi Arndt is a great narrator. She is also American. For almost the entirety of her narration here, she had to use a British accent. It's a big ask and I did wonder why a native British narrator wasn't chosen instead. I think it would have been easier. That said, Arndt's accent was pretty good. She slipped occasionally into her American accent but there was enough of the British that she was able to pull off the performance convincingly.

Shane East is excellent – of course he's a native Brit so he didn't have any particular accent challenges (although his US accent is great – I do think it's easier for Brits to do a US accent than vice versa, at least that is my experience). I think he's the English version of Sebastian York. I'd be happy to hear him narrate more romance.
Both Arndt and East are excellent narrators and, notwithstanding my…query (?) about the casting, it was a very enjoyable listen, with both performers delivering good pacing, emotion and tension.
I did find myself becoming impatient with the story from time to time and I thought the plot lagged a little at about the two thirds mark of the book. I liked, but did not love it. Still, the ending was less fairy tale and more realistic – while still conforming to genre requirements; there is a HEA, never fear. Considering the setup, it was a surprise to me that the book ended the way it did. The good kind of surprise.
Grade: B