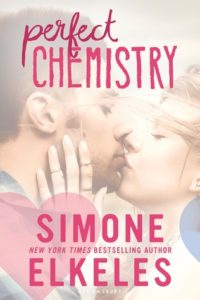 Why I read it:  I borrowed this book from my local library.

What it's about: (from Goodreads)  When Brittany Ellis walks into chemistry class on the first day of senior year, she has no clue that her carefully created "perfect" life is about to unravel before her eyes. She's forced to be lab partners with Alex Fuentes, a gang member from the other side of town, and he is about to threaten everything she's worked so hard for-her flawless reputation, her relationship with her boyfriend, and the secret that her home life is anything but perfect. Alex is a bad boy and he knows it. So when he makes a bet with his friends to lure Brittany into his life, he thinks nothing of it. But soon Alex realizes Brittany is a real person with real problems, and suddenly the bet he made in arrogance turns into something much more. In a passionate story about looking beneath the surface, Simone Elkeles breaks through the stereotypes and barriers that threaten to keep Brittany and Alex apart.
What worked for me (and what didn't): 
I've listened to (and enjoyed) Wild Cards (now retitled to Better Than Perfect) by Simone Elkeles and I know she has a reputation for writing great YA romance. So, I've had Perfect Chemistry on my radar for a while now but I've only just got around to actually reading it.
The story is told in the dual, alternating POV of Alex Fuentes and Brittany Ellis. They both go to the same Chicago high school. The story begins on day one of their senior year.
Brittany is from a wealthy family but her home life is not idyllic. Her father works a lot and is often away, her mother is obsessed with appearances and, apparently, perfection. Brittany's sister, Shelley, was born with cerebral palsy and is quite disabled. She is confined to a wheelchair and is non-verbal. She can communicate through a computer keyboard which synthesises a voice for her and she does say a few words which are understandable to those familiar with her. She requires constant care but finding in-home helpers is difficult. Brittany's parents consider sending Shelley away to a facility and Brittany sees this as a terrible option – one which punishes Shelley for being less than perfect and one which is done not for her (Shelley's) well-being but for selfish reasons on the part of her parents. However, Brittany's life looks, from the outside, as if it's pretty perfect. She wears the right clothes, drives a fancy new sports car, is popular – including being the girlfriend of the star quarterback on the high school football team. She keeps her private life very private indeed – very few of her friends even know she has a sister, let alone anything else.
Alex's life is more obviously difficult than Brittany's. He is in a gang – the Latino Bloods. He doesn't wish to be in the gang but was forced to join in order to protect his family. He has, to date, steered clear of any drug activity and has worked as a kind of enforcer for those who owe money to the gang. He has two younger brothers – both of whom he is determined, will not join the gang. Alex hopes to graduate high school. He knows he is not destined for college. Gang members don't go to college. He is smart but that's not enough to get him out from the life he's in now. Alex's father died when Alex was only six. Alex witnessed the murder but remembers only brief flashes of it. Alex's dad was in the gang too. It wasn't difficult for me to guess what actually happened to Alex's dad but I liked the way the story was slowly revealed throughout the book. Alex's mother loves her three sons dearly and works hard to support them but she is also grateful to Alex for joining the gang so as to protect the family. It took me a while to understand that dynamic. I guess my default would be that a parent would be horrified to find her son in a gang, so I wasn't expecting Mrs. Fuentes's conflicted approval for Alex's associations.
It is explained early in the book how difficult (almost impossible in fact) it would be for Alex to leave the gang and survive. And, even if he did manage that, he may well put his family at risk by leaving. Ultimately, Alex knows that he has no rosy future – sooner or later, he will be forced into the drug trade he has so far avoided and from there, he knows that things will only get worse for him.
Alex sees Brittany's apparently perfect life and is disdainful of her "first world problems". Brittany sees Alex's handsome face and his gang-identifying bandanna and tattoos and is frightened – but also fascinated.  When they are paired up for a major chemistry project for their senior year, both are forced to re-evaluate what they thought they knew about the other.
There's a bet; Alex is suckered into betting that he will have sex with Brittany and this does play a part in the story. But it's not as big a part as I expected it would be and that subplot didn't necessarily take a predictable path.
There were some stereotypical characters; Brittany's boyfriend (at the start of the book anyway), Colin, is an insensitive, entitled, jock. Some of Brittany's friends are straight out of Mean Girls. But there are also characters with nuance, not least of which are Brittany and Alex themselves. Aided by a do-gooder chemistry teacher and a new high school principal committed to equality and diversity, the bad boy and the girl next door realise they have more in common than they could ever have imagined and that together, they are better than when they're apart. In some ways, the story is a little like Grease actually. But only in some ways. There are obvious (and vast) differences.
What struck me most about the story is how raw and real the portrayal of Alex's life was. I was seriously wondering how Ms. Elkeles was going to pull off a HEA for Alex and Brittany. She did and it wasn't entirely the result of some happy coincidences either. The stakes are high from the start and the urgency and tension of the story kept me reading and fully engaged.
The main characters read authentically like teenagers and their behaviour and actions felt realistic given their circumstances.
Perhaps I'd have liked a little more conversation between Brittany and Alex in the middle part of the story but I nevertheless did buy into their romance.
I liked where the story went with Brittany's family. Not entirely wrapped up in a neat bow but certainly greatly resolved. I think Brittany had a bit of the unreliable narrator about her – but that made sense too because there are few who think "it's all about me" more than a teenager.
What else? I'm certainly not an expert in the portrayal of disabled characters so I can't say definitively that it was done particularly well here. But I did feel that Shelley had agency of her own and the subtext seemed to indicate a desire for more, for change, for some level of independence, which she gained through the course of the book. Of course, the story was about Brittany and in that regard, Shelley was a bit player and her place in the novel was largely limited to the impact she had on Brittany's life and activities and that's something I've seen (rightly) criticised before in other books.
The ending of Perfect Chemistry was somewhat abrupt and some important events happened off page and/or were mentioned as asides. The action jumped forward quite a distance in time and in doing so, the story lost momentum.
However, I was impressed by the gritty realism of the book, by the authenticity of many of the characters and, flat out, I just enjoyed the story.
Grade: B/B+