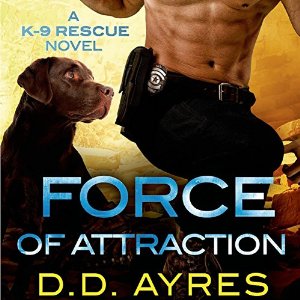 Why I read it:  I've had my eye on this book for a while and wanted to catch up on the series. I decided to try the audio rather than the digital version. MISTAKE.

What it's about: (from Goodreads)  The only thing more powerful than fear is desire…
A seasoned K-9 officer with the police in Maryland, Cole Jamison has left her old life behind her. With a new home and a new partner – a protective canine named Hugo – Cole is ready for fresh challenges. A crucial position on an important drug task force is exactly what she wants – until she discovers her gorgeous, infuriating ex-husband will be the DEA agent in charge.
Agent Scott Lucca may be a pro when it comes to undercover assignments, but this job is daunting even for him. Posing as a happy couple on the dog competition circuit means he and Cole need to get a lot closer than they've been in years. Playing a live-in couple should seem like a walk in the park compared to tracking a brutal criminal, but suddenly nothing could be more dangerous than the passionate fire they've rekindled.
What worked for me (and what didn't):  Cole (short for Nicole) Jamison is somewhat unexpectedly asked to join an undercover operation run by a joint FBI/DEA task force. She's a K-9 officer with the Maryland police but her previous experience in agility training/courses is the big attractor for the task force. Also, her ex-husband (who wants her back) suggested she be brought in.
Scott Lucca met and married Nikki (as he then knew her) in a whirlwind romance. After his beloved (and golden) brother, Gabe, died while deployed, Scott lost it a bit and things fell apart. At the time he was working as an undercover operative infiltrating the Pagans MC and some of the things he had to do to maintain his cover cost them both. That was two years earlier and Scott still misses Nikki like it was yesterday.

Cole has mostly moved on – she's reinvented herself including going by a new name but when Scott lands back in her life she realises she's not over him.
For the mission, Cole and Scott must go undercover as a couple, with Cole using her service dog, Hugo (a Bouvier des Flandres), in weekend agility competitions. The target of the investigation also competes with her dogs and Cole is tasked with getting close to her. Meanwhile, Scott, who is now a DEA agent in their K-9 division, will use the skills of Lucy, his chocolate labrador, to sniff out drugs. Someone is moving heroin throughout the US and they are using puppies as drug mules to do it.
As Scott and Cole are forced into close proximity by the mission, they begin to work out their relationship differences as well as rekindling their passion.
To add some more drama and risk to the mix, Scott is being pursued by a Pagan MC member who blames Scott for putting him in jail. This puts the mission in jeopardy as well as Scott and the people he cares about.
While some aspects of the plot didn't quite gel for me, I found Force of Attraction a much smoother story than Primal Force (which I reviewed for Dear Author) and I certainly felt the chemistry between the protagonists. I liked that Cole was clearly a changed person to the woman she'd been when Scott first knew her and that to get to their HEA, he had to get to know the person she is now, as well as opening up to her about all the things he had kept bottled up. I liked that Cole was capable and smart and Scott treated her as a fellow professional law enforcement officer, even when he was worried about her as the woman he loved.
I loved all the dog stuff – both Lucy and Hugo were great characters in the book, though Hugo had a more prominent role. There was one bit where I was a little confused though – when Hugo and Lucy first meet, Lucy is all "go away dude, you so aren't worth my time" and Hugo is all "boing boing look at me! Come and play with meeeee!" That didn't quite make sense to me because Hugo had cause to dislike Scott (he had made Cole sad) and the context in the book was that the dogs were reacting that way because of the discord between their respective owners. So why Hugo was enthusiastic and Lucy standoffish didn't fit in my mind. Maybe I missed something.
Hugo made me laugh with his kleptomaniacal tendencies and how he showed his growing affection for Scott.
I thought the book had a good balance of relationship and suspense. I admit I'd have liked a little more plain talking between Scott and Cole but otherwise, I really enjoyed the story. The narration on the other hand…
What else? The narration wasn't good. If you can imagine Charlie Sheen reading a noir book, that would approximate my listening experience. Add in that Mr. Kafer doesn't deliver a convincing female character voice (to my ear, no real attempt was made) and it didn't make for a great listen. Some of the time the vocal expression seemed right but much of the time it did not. The context of the words on the page did not always match the delivery and really, I was often half expecting Humphrey Bogart to turn up and ask someone to whistle. It was not a noir book. It was not Dragnet. 
The kennels around which this series is (very) loosely based are called "Harmonie Kennels" but for the first few mentions (even though Mr. Kafer had also narrated the earlier book in the series) he called them "Harmonic Kennels". It was disappointing this error wasn't fixed in post production. Other than that, technically, the performance was okay. The audio was listenable but I didn't enjoy it. Basically I was too cheap to buy the digital version as well and I wanted to know what happened in the story so I persevered. I will stick to digital in future for this author.

I don't normally split the grading when I review audiobooks here but this time I felt it was only fair.
Grade   Story: B   Narration: C-