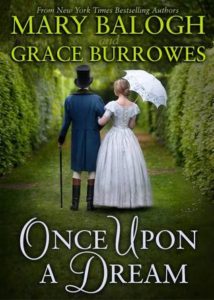 Why I read it:  I adore Mary Balogh books so I bought it. (I haven't yet read the Grace Burrowes story. I may not ever do so as I really only bought it for the Balogh novella.)

What it's about: (from Goodreads)  Miss Eleanor Thompson has found satisfaction as the director of a respected school for girls. The life of a dedicated educator offers many rewards and much meaning–but also more loneliness than Eleanor anticipated. She accepts an invitation from her sister, Christine, Duchess of Bewcastle, to attend a Bedwyn houseparty, never dreaming the summer curriculum might include stolen kisses and true love. 
What worked for me (and what didn't):  I was feeling in the mood for a comfort type read but I also wanted a story I hadn't read before – so I turned to Mary Balogh. She is ever the comfort read to me. I just sink into her books like I would a comfy couch.

Eleanor Thompson is Christine's sister (as in Wulfric's wife). She is now the owner/operator of the Bath school for girls formerly run by Claudia Martin, now the Marchioness of Attingsborough. On her way to Lindsey Hall for a summer holiday with her family, she is stranded at an inn waiting out a storm. There, she meets a charming man, a widower with two young children, Michael Benning, the Earl of Staunton. Robert is five years old and very shy, Georgette is # and precocious, voluble and whip smart. The children take a shine to Eleanor and Eleanor and Michael take a shine to each other.
As it happens, the earl is heading to the same destination for a two week house party. There, through the machinations of the children (because adults are stupid) Eleanor and Michael find that they may yet have a happily-ever-after.
Eleanor and Michael are both approaching forty. It's rare in an historical romance for the protagonists to be middle-aged (alas) so this is something to celebrate. There is a love scene but it was kind of crammed into the story. Brief though it was, frankly, it wasn't necessary.
The children feature most prominently in the story and readers who dislike plot moppets may not find the same enjoyment as I did.
Eleanor and Michael are at cross purposes for some of the story (veering perilously close to the Big Mis which is my least favourite trope) but because it was a novella and the cross purposes didn't last long, I was able to cope and still enjoy the story.
I liked the way Ms. Balogh handled the previous loves of both Michael and Eleanor and how neither were demonised nor lionised. It's a sweetly charming story with the added bonus of brief cameos by other Bedwyn couples so there's a lot to like.
Grade: B