Monthly Mini Review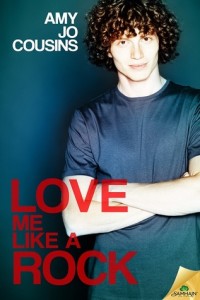 Love Me Like a Rock by Amy Jo Cousins – B Austin and Vinnie are suite-mates with Rafi (from Level Hands) at Carlisle college and is the cox for the Junior Varsity boat in the rowing team. He's short (5'4″) and compact (but fit and strong) and has a mop of curly red hair. He and Vinnie have been BFFs since they met in high school and shortly after, they also became semi-regular fuck buddies. Austin has been waiting for Vinnie to want an actual relationship. Vinnie is only interested in Vinnie in any romantic kind of way when he's turned in a paper and wants to de-stress, get drunk and screw. Austin figures he'll wise up eventually. But in the meantime, he's free to have a fling with the hot model from the latest life drawing class. Sean is a geology senior, taller than Austin but not by a lot and he's also a redhead – his style is lumbersexual, complete with beard.  While Austin makes things clear to Sean, it's equally obvious that Sean is really, willing and able to go all in. He's had his eye on Austin for over a year.
Over the course of the story, Austin realises that his fuck buddy relationship with Vinnie is unhealthy and going nowhere. And, as he spends time with Sean, he realises that there are reasons for that, some of which come down to Austin himself. He finds himself a different person with Sean – more relaxed and open about his feelings. By different I don't mean that Sean changes Austin. It's not like that. It's more that with Sean, Austin relaxes and opens up in a different way and learns a new way to be – he's always himself and Sean doesn't want or ask for him to change his personality or anything.
The story is told from Austin's third person POV so there isn't as much of Sean as I'd have liked. He's relaxed about his middle class background and not fussed by Austin's wealthy and politically prominent family. He is open about his feelings for Austin so I it's not like I didn't get a feel for him. But I always like to have more. (Just call me Oliver).
The ending is HFN and appropriate for the length of the story and where the guys are at. I liked the way they were together and I'm confident they will make it for the long haul though. I enjoyed how the author took Austin and Vinnie out of their dysfunctional relationship and found them healthy relationships while saving the base friendship between them. The story doesn't deal with any heavy topics but focuses mainly on the developing relationship and Austin coming to quite a few important realisations over time. Good stuff.
Love Me Like a Rock is also available in print as a duology called Between a Rock and a Hard Place with beardy Sean on the cover (and also includes the companion novella, Hard Candy about Vinnie and Bryan).
BUY IT:
AMAZON     KOBO     BOOK DEPOSITORY
Coming Soon
on Audio
Reviews of these books will be up soon at AudioGals.
Links