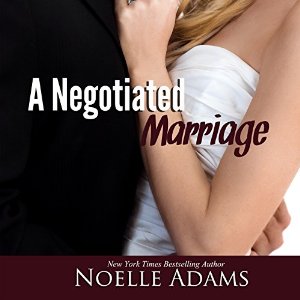 Why I read it:  Audible had a special on this one so I bought it because I can't resist a bargain.

What it's about: (from Goodreads)  Sex wasn't supposed to be part of the deal.
Three years into a marriage of convenience, Molly's high-powered CEO husband wants to add a new term to their marriage agreement. Sex—without any messy emotional entanglements. But weekly sex with Luke, despite their carefully negotiated terms, is likely to get messy eventually.
Content in a mutually beneficial arrangement, Molly isn't going to fall for Luke the way she fell for an old lover, only to be crushed in the end. She vows to stay strong, no matter how much intimacy develops between them in bed. When her old lover returns, finally wanting a real relationship, Molly has the chance to give her heart to a man who will accept it.
It's too bad she now wants to give it to her husband, who has never admitted her heart is what he wants.
What worked for me (and what didn't):  I do like a marriage of convenience story but it isn't terribly common in a contemporary romance. Here, Ms. Adams gives a believable set up and a lovely romance wrapped up in a contemporary package. The only thing missing really, was the hero's POV.

Molly has been married to Luke for three years. She was burned in a relationship which was supposed to only be no-strings-sex with her former employer; she fell in love and when she confessed her feelings, Baron James broke things off – he didn't share her feelings. Things got really messy and she ended up moving to Toronto where she took a job with Baron's business rival Luke. About a year later, she resigned from Luke's firm to start her own fraud investigation business. She couldn't stay working for Luke – they were getting married.
Luke had proposed a business arrangement. His public reputation was suffering as a result of the one night stand type of "relationship" he favoured and women were throwing themselves at him. He wanted to fix both issues and a wife would solve that. They had hammered out a contract which included things such as; Molly is to attend six social functions with Luke per month. The marriage was platonic only and both agreed that their sexual needs would be met by themselves personally or via the hiring of discreet professionals. Molly had tried the escort route but found it unsatisfying and so has managed quite well with a selection of toys. She doesn't know exactly what Luke does but she assumes he hires call girls.
The story really gets going when Luke proposes a renegotiation; he would like to add sex into their marriage as the call girl thing is not working for him. Molly is taken aback at first but is (fairly easily it must be said) persuaded by Luke to at least try it. It works amazingly well. Pretty soon their agreement for sex once a week is not enough and that rule is scrapped too.
What I really liked about the arrangement they had, as bloodless as it may first appear, is that they did agree to these things. They discussed what it was they wanted and then negotiated to get them. It seems to me that, perhaps without the business arrangement aspect, those things would be features of a healthy relationship.
The sex is amazing (of course) and Molly starts to feel much more emotionally attached to Luke than she expected she would. This fit for me as well, both in my personal experience and within her character.  Molly finds herself in love with her husband (the horror!!) and unable to tell him and risk another Baron James implosion.
What else? I suppose some of the tension in the story is gained from the reader being in Molly's shoes and not knowing what Luke was thinking. Except of course he's in love with her too – it's a genre romance! That being the case, I felt the lack of his POV. The reader does get to know a little of when Luke's feelings changed but we never find out why he had been so relationship-shy in the first place.

The story could have veered too long into "Big Misunderstanding-ville" but fortunately, it was only a short detour and things were quickly resolved.
I enjoyed the narration by Carly Robins. I'd had no experience with her performance before but I'd be happy to listen to her again. I wasn't in love with the voice she used for Luke – it was okay; a little deeper but with just a hint of helium which I could have done without – but the rest of it was solidly entertaining. Her pacing and emotion were delivered well and I think she had a good grasp on Molly's character. The sex is earthy and, with the possible exception of an extraordinary amount of orgasms on Molly's part, pretty realistic. There is some frank language but it actually sounded good out loud. Sometimes I think sensual scenes should stay on the page but it was not the case here.
Overall, A Negotiated Marriage was a fun and sexy listen, not overly angsty and very entertaining.
Grade: B