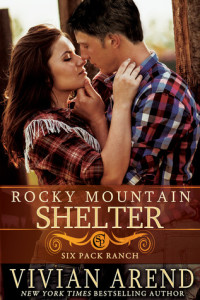 Why I read it:  I received a review copy via the author.

What it's about: (from Goodreads)  Innocence and passion are an addictive mix…
The dark-haired stranger next door triggers every protective instinct Trevor Coleman never knew he had. From the moment Becky Hall literally falls into his arms, the last man standing of the Moonshine clan doesn't even attempt to resist sweet temptation. Becky is beautiful, mysterious and heartbreakingly vulnerable…and he's a goner.
To escape the hell she was trapped in, Becky left everything behind but her courage. And for once in her life, good people step up to make a difference. A helping hand, a new job…a very attentive and libido–stroking neighbour. Now a new future awaits, one that shockingly includes sexual pleasure instead of icy pain, and a sexy cowboy who's more than eager to show her the ropes.
Becky's sweet smiles and seductive innocence draw him in like nectar, and Trevor knows one taste will never be enough. But with secrets growing thicker than a bumper crop, changing a life will take more than a new ID and a cowboy's good intentions.
It's gonna take sacrifice to break these chains.
What worked for me (and what didn't):  Rocky Mountain Shelter deals with somewhat darker themes than earlier books in the series. Trigger warning: rape (not on page, not by hero, not graphic). The book begins with Becky escaping from what readers later learn is a cult where the men are polygamous and the wives aren't always willing (and sometimes they are 'shared'). Becky has been preparing for a while and one night, she takes off and, very fortunately for her, is picked up on the highway by a trucker with a heart of gold, with mysterious links to the Coleman clan.

Shortly after, Trevor Coleman comes across Becky fixing a leaky roof in her newly rented cottage adjacent to his family's ranch. He's curious about who owns the land as he'd like to suggest their family rent the acreage for extra grazing and growing, but when he meets Becky, his initial impulse takes a backseat to his fascinated attraction to the pretty lady who does what needs to be done even if (like climbing on to the roof), she's scared.
Becky, for her part, is not all that welcoming. Her experience has made her shy of men and she's still trying to get on her feet. But Trevor is charming and persistent in a non-asshole way and soon, she accepts his help and friendship – a friendship which later slowly develops into a romance.
One of the things I liked very much about the book was that it didn't whitewash Becky's trauma and her reaction to it. There was no healing by the mighty wang of loving or by finding tru lurrve (TM). Some things Becky was fine with but intercourse was a big issue with her and, as the novel portrays, one that's not easily solved.  Trevor is patient and inventive and open to trying new things and he's not in a rush to get to PIV sex – the fact is, he's having more fun and pleasure with her than ever before.
Trevor's role in the Coleman books to date has been fairly small and what there was of it indicated he wasn't and intellectual giant (although he's not a dunce) and was very impulsive. In Shelter, the reader gets to know him and see his sweetness and charm as well as some of that impulsivity. Trevor is the family peacemaker (a role I have some affinity for as it happens) and he is known for trying to make things better for everyone if he can. For Becky, he doesn't take over. He helps her with things sure, but he stands with her when she needs to do things herself and in her own way and he always respects her boundaries, even though this is something of a struggle from time to time.
When Trevor and Becky first start getting naked together, Trevor is so focused on trying to help Becky that he even goes seeking (very discreet) advice from Travis. And here, is another thing I loved about the book:
Travis shook his head as he held up a finger. "For the record, you are having sex, asshole. Everything you've been doing is sex. Just because you're not sticking your cock in her doesn't mean you're not having sex.
Go Travis!  This. This. This.
What else? Not everything is tied up neatly with a box in this book but some series arc subplots are advanced – I was glad to finally find out what was wrong with Trevor's dad, Randy (not knowing stuff frustrates me). At the start of the book, I did have a little bit of that frustration when I was working out exactly what Becky's story was, but it didn't drag on too long and the rest of the story was so engaging it didn't bother me as much as it has in other books I've read.
Also, the description of the clan's day out, floating down the river, sounded like so much fun – I wished I could do it too. Although, I'd leave the rope swing to others I think.
Grade: B/B+