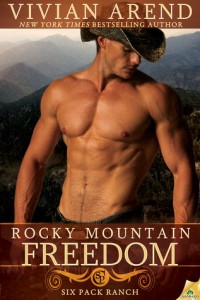 Why I read it:  I bought it because I couldn't wait for the audiobook (which I think will be available soon, just not soon enough for me!).

What it's about: (from Goodreads)  Three hurting hearts. Too many secrets. One chance to conquer their fears.
Over the past year, Travis Coleman lost the two people he allowed closest to his heart. Both gave him ultimatums—then left. Hell if he needs that kind of pain again. Time to move forward without the friends he thought might save him from his dangerous cravings.
When Ashley Sims returns to Rocky Mountain House, her rambling lifestyle isn't all she's hoping to change. Travis snagged a piece of her, and while getting tangled in his issues again might be crazy, she hasn't given up on him.
Nine months ago, Cassidy Jones walked away to stop his best friend from making a huge mistake. Temptation lingers, though, and when Travis shows up on his turf accompanied by a sensually uninhibited woman, the combination tosses fuel on the banked fire.
Passion flares among the three of them, as hot as the summer days. But are they willing to push the limits, and fight for love?
What worked for me (and what didn't):  I was in the mood for hot and sexy and reliably good so I checked where I was up to in the Six Pack Ranch series and downloaded Rocky Mountain Freedom.  My favourite kind of menage book is where all three are romantically and sexually involved.  Here, I thought there was perhaps a bit of a fairytale acceptance of the polyamorous relationship but the problems weren't entirely glossed over either and I was able to buy into the fantasy of the romance without any trouble.

In some respects Ashley is the glue that holds the trio together but I think that is mainly because she is so open and accepting; her adventurous spirit and natural broad-mindedness combine with her deep desire to see Travis happy and fulfilled and it is she who facilitates the triad.  Ashley makes it easy for Travis to confess his attraction to Cassidy and, because she is convinced Travis needs something that she can't provide, she actively pushes him to pursue it.  At first, she thinks she will eventually have to back away to let Cassidy and Travis have their HEA but it turns out that Ashley is essential to their happiness too and she finds herself less and less willing to let go of the relationship the three have carved out.
Because their relationship begins when they're all away from Rocky Mountain House while working for Karen Coleman's trail riding adventure business, they are largely able to avoid any outside pressure or expectation when things are still developing/brand new.  Cassidy agrees to join Travis and Ashley for the summer and they scorch up the sheets often but he doesn't think a relationship between them can withstand the scrutiny of the town and, more importantly, Travis's family.   I liked the way this was resolved and the way the trio planned to go forward.  They had a few hiccups with their communication but they were working it out and learning that being open and honest was the way to make things work.
There wasn't any specific discussion of "rules" but it was clear that if one partner wasn't around the other two were free to enjoy each other without shame or jealousy from the absent one.  Ashley has previously been not possessive at all but is surprised to find that she is very territorial about "her guys" (but only as regards other people, she is not jealous or territorial about Travis's and Cassidy's connection – in fact, this is true of all three of them.).
Travis has long sought pain as a release from stress/tension which builds up in him until he reaches breaking point.  He has looked in dangerous places for this release – including underground fights and back alley brawls.  It hasn't been a sexual thing for him previously but with Cassidy, he finds things are different.  I  can't say I fully understood exactly what made Travis seek pain as catharsis but I did like the acceptance by his partners about it and the way he came to accept himself and his own needs.
What else? The story is scorching hot with m/m scenes, m/f and all three together.  The sex is inventive and develops the relationships and I never got the impression there was some kind of hierarchy  or checklist of activities which needed to be ticked off.  The scenes felt organic to the story, each revealing a level of acceptance – of themselves or one or both of the other partners or their emerging connection – as the book progressed.

It was an easy fun and sexy read, just as I knew it would be and it was just what I was after when I bought it.
Grade: B/B+