It's been a tough week here in Australia and around the cricketing world.  We lost someone special this week and we are sad.  Normally I talk about romance and romance books on this blog but I wanted to share my thoughts and try and explain maybe why the events of this week have had such a broad effect on us.
Unlike Aussie Rules football (AFL), rugby (union or league) or even soccer, cricket is our national sport.  It's played all over Australia – all year round indoors and outdoors all summer long.  Our cricketers play all year round all over the world these days.  I think every Australian kid has played cricket at some point. Even me.  We don't have many (any?) indigenous cricketers in the state or national teams and that's a problem (one for another day) but in many ways, cricket identifies us.  On Boxing Day, the Melbourne Test match starts and TVs and radios around the nation are on all day and one of the most common phrases you'll hear will be "What's the score?".  We are largely a secular nation and in some respects, cricket is our religion.  It connects us in ways that politics and religion does not. Even Australia Day is heavily associated with cricket.  Cricket is certainly a place we draw icons and heroes from.  Sir Donald Bradman, the Chappell brothers, Dennis Lilllee, Jeff Thomson, Steve Waugh, Adam Gilchrist, Shane Warne – these are all cricketers revered by the Australian public in one way or another.  They're ours and they mean something to us. When they do surveys about who Australians trust the most, cricketers almost always top the list.  We value our sportsmen more than our statesmen (that says something not very complimentary about our statesmen and women, but that's for another day too and probably not this blog). In many respects, our cricketers are as revered as the royal family is in the UK. The Captain of the Australian Cricket Team is colloquially said to have "the second most important job in the nation".
Philip Hughes was from New South Wales but he played state cricket for our own South Australia Redbacks for the past two years and that means he was ours too.  Everyone's a bit parochial about cricket.  If a player was born in South Australia or played here briefly or possibly just holidayed here, we are inclined to include him as "ours".  The same holds true in all the other states as well; it's not just South Australia. Philip Hughes was "ours" because he had played for Australia.  He was "ours" because he played for South Australia and he was "ours" because he played for New South Wales.
On Tuesday, the Redbacks were playing the NSW Blues in a Sheffield Shield match at the Sydney Cricket Ground. The Sheffield Shield is a series of 4-day cricket matches (similar to test matches but not quite because tests go for 5 days and are international matches) between the state teams.  There's a test match between Australia and India due to start next week (which may or may not go ahead now) and our captain, Michael Clarke, has a hamstring injury and is unavailable for selection.  Philip Hughes was the front runner for Clarke's test spot.  For an Aussie cricketer, getting into the Australian test side is a Very Big Deal.  Philip Hughes played for Australia before but hadn't yet cemented his place in the side as a permanent fixture. I think everybody agrees it was only a matter of time.
Before he played for the Redbacks, he played for the Blues and over the course of playing cricket in all its various forms, he'd played with most of the guys on the field on Tuesday.  They were his friends as well as his team mates and former team mates.  From all accounts, Philip was the kind of guy everyone loved; friendly and funny and passionate about his cricket.  One of his mates, Sean Abbott, bowled a bouncer (a short pitched delivery that bounces up around head height).  It was a fairly innocuous bouncer, not delivered with malice or ill intent. It's part of the game and it's about competition and psych.   It was no-one's fault that this ball which was probably travelling at about 85mph at the time it hit, hit Philip Hughes on the side of the neck, causing a catastrophic injury to his carotid artery resulting in a brain haemorrhage.    He collapsed on the field and Sean Abbott, his friend, was one of the first people to come to his aid.  He never regained consciousness.  There were doctors on the field in no time and Philip was resuscitated and intubated before he was taken by ambulance to Sydney's St. Vincent's Hospital where emergency surgery was undertaken to relieve pressure on his brain.  His condition did not improve and yesterday, Thursday, Philip Hughes died. The doctors are saying that the event was so rare – only about 100 cases have ever been recorded of this particular kind of injury and it is "nonsurvivable".
He was 25 years old and just about to be recalled to the Australian test side.  He would have turned 26 this Sunday.
I didn't know Philip Hughes at all.  I'd seen him play but I didn't know him.  I didn't know him and I feel kind of devastated and if I feel this way, I can't really imagine how bad his family and friends are feeling right now.  And I can't imagine how Sean Abbott is feeling right now.  My heart goes out to Philip's family and to Sean, who was his friend.
My husband played cricket when he was a teenager.  He tells me he was hit in the head with a cricket ball many times and got nothing more than a bruise and a headache. They didn't have helmets for kids back when he was playing. Philip Hughes was wearing a helmet but you can't play cricket in a suit of armour and that particular spot on the side of his neck was not protected and that particular ball happened to hit just at that particular spot when he turned to attempt a pull shot.  It was no-one's fault.  Philip Hughes would have faced thousands of bouncers in his career.  Batsmen all around the world face them every day. Sometimes awful things happen for no discernable reason. Sometimes a life is cut tragically short and it's no-one's fault and there are no answers and it is completely out of our control and it is terrifying and devastating.
Yesterday, Paul Taylor, an IT guy from Sydney posted a picture on Facebook with the hashtag "put out your bats".  It's gone all over Facebook and Twitter now. Cricket fans all around the world are honouring Philip Hughes and putting out their bats. I put out our bat this morning. It's a little thing but it's something and it feels right.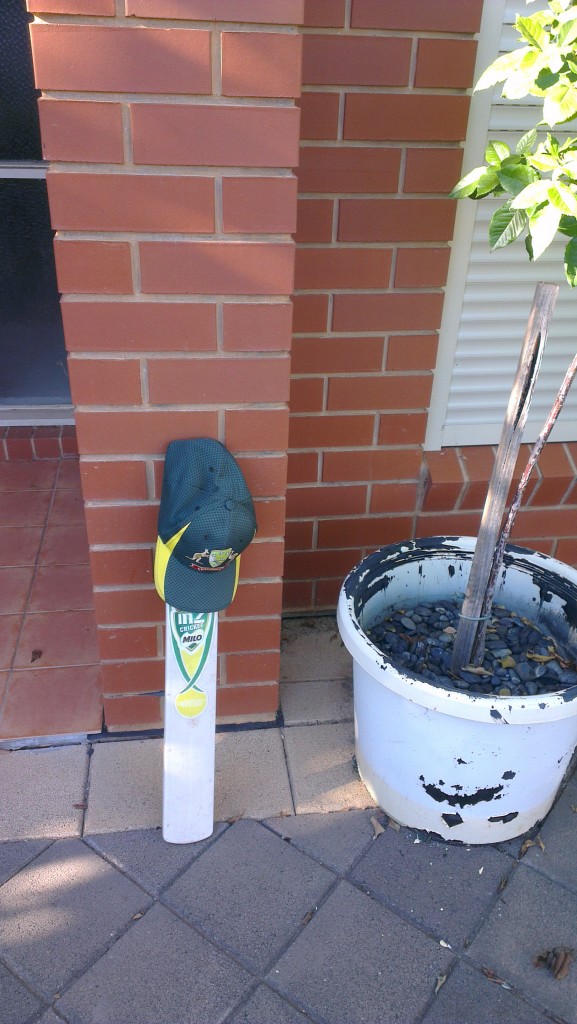 Vale Philip Hughes
It's been a tough week this week.  It's hard to describe just how we're feeling. Even people who don't like cricket (heathens) are affected by it.  We lost someone special and we are sad.