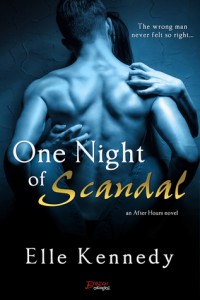 Why I read it:  I pre-ordered this one because it was 88c and I like Elle Kennedy.  I also enjoyed the previous story featuring Skyler and Gage.

What it's about: (from Goodreads)  The wrong man never felt so right…
Ex-fighter Reed Miller has been secretly lusting over his best friend's girl for months, but he refuses to jeopardize a friendship over a woman—especially one who doesn't like him all that much. Now that Darcy's on the market again, it's even more imperative to stick to his strict hands-off policy. But the sizzling attraction between them is too powerful to ignore, and once he's had a taste of her…all bets are off.
Darcy Grant is tired of walking the straight and narrow path. She's on the hunt for passion, and there's no denying Reed is just the man to give it to her. Although she has no interest in dating a bad boy, and certainly not her ex's best friend, it's impossible not to melt beneath Reed's skillful touch. Now it's just a matter of setting a few ground rules—and hoping her rule-breaking, sweet-talking bad boy agrees to follow them. But if she lets Reed into her bed, does she stand a chance of keeping him out of her heart?
What worked for me (and what didn't):  It was pretty obvious in One Night of Sin that Reed had a major thing for Darcy.  He avoided her and scowled a lot whenever he couldn't.  It turns out that AJ and Darcy were better off as friends because there was not zing between them.  They cared deeply for each other and got along great – but when it came to sex there was zero chemistry.  After they mutually decide to end things, Reed sees Darcy out at a nightclub and one thing leads to another and their chemistry – which is off-the-charts-hot – is revealed.  There are essentially two things blocking Reed and Darcy from the HEA.  The first, obviously, is that Darcy was AJ's girl and he and Reed are best friends.  The second (once the first is resolved) is that Darcy doesn't believe Reed is relationship material and wants to keep things at a fling level so that no-one gets hurt.  Yeah, because that works.

I respected that Reed and Darcy both felt really bad about going behind AJ's back but I thought there was something missing in the mash-up between AJ's apparent unhappiness and his phlegmatic acceptance of Darcy/Reed.  I expect that will be cleared up in AJ's book but it kind of jarred here.
Reed hasn't had a relationship before but he's also never felt for anyone what he feels for Darcy.  I always felt it was kind of mean of Darcy to try and keep him at arm's length – but then, I'm not a fling person myself.  (I'm more of a limpet.) There was some explanation of Darcy's hesitancy in her own dysfunctional family – her dad was a "bad boy" who couldn't settle down.  But really, Reed never struck me as anything like Darcy's dad.
Darcy finds a hitherto unknown desire for semi-public sex which Reed is only too happy to indulge and he's a dirty talker too which, when done well (as here) is a lot of fun.
Reed's behaviour toward the end was a little on the shitty side but I appreciated that things weren't left to fester for long and I had no doubt that they'd be very happy together in the long term once they were both on the same page.
It was a sexy fun contemporary romance which didn't tax my brain very much.  I'm looking forward to AJ's story.  I wonder who he will end up with?  There's been no hints (that I can tell anyway)…
Grade: B-