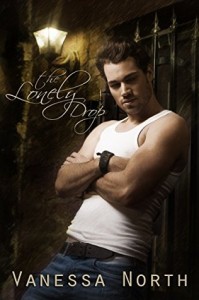 Why I read it:  It was recommended to me all over the place.  It's also free as a free thing which is free.  Extra bonus points for the clean formatting and good copy editing.

What it's about: (from Goodreads)  Dear Author,
Ten years ago, I turned him down.
One night stands were his norm, and not because he couldn't have had a relationship if he'd wanted one. He could pretty much have any man he wanted. I walked away because I deserved better.
Now our paths have crossed again. He has the world at his feet. It's a tempting thought to throw away my lifetime of ideals for a single night with him.
Do I still have the strength to walk away?
Do I even want to?
Photo Description:
Two men lie naked in bed. One is on his stomach, with his head out of the frame, the other strokes a hesitant hand down his lover's back.
This story was written as a part of the M/M Romance Group's "Love's Landscapes" event. Group members were asked to write a story prompt inspired by a photo of their choice. Authors of the group selected a photo and prompt that spoke to them and wrote a short story.
What worked for me (and what didn't):  Nick Hana and Kevin Dorsey have been best friends all through college. They're both on the college soccer team and they're both gay. They also have a lot of other things in common and have been very close.  Nick is in love with Kevin but Kev gets around and is notorious for one-night stands.  Nick is a firm believer in sex having to mean something.  He doesn't want to have sex for the sake of sex.  He wants the relationship too.  Believing he cannot get that from Kevin, they part the eve before graduation on unfriendly terms.

Ten years later, Kevin, working for his dad's New York mergers and acquisitions company, bobs up in Nick's bar and restaurant, The Lonely Drop, in Asheville, North Carolina.  He's only in town for a few days to fire some people from a company they've just bought but he'll be back in a little while to hire replacements.  Nick and Kevin reconnect but Nick is careful not to cross the friendship line because he thinks Kevin hasn't changed – he's still all about the hook-up.
The story is told from Nick's first person POV and of course all is not what it seems.  Within the space of a few months, Nick and Kevin become close friends again and, as things are wont to do in these situations, eventually the friendzone is no barrier to sexytimes.
I don't think there is anything revolutionary in this short story and I don't think it takes a rocket scientist to intuit how things get to their HEA.  But a story doesn't have to be ground-breaking or revolutionary to be good.  When a familiar trope is done well, it is just as satisfying.  The style is spare and clean and the characters are drawn with insightful sharp strokes.  I liked that the author took the time, even in such a short story, to show Nick as having a whole, if somewhat lonely, life and to draw Jenny as being not just the good friend and employee she is, but as someone who has a life of her own.  It was sexy and sweet and Nick wasn't perfect – all of which I enjoyed very much.  I loved the way Jenny and Jonah give Nick a bit of a talking to late in the piece and the self-revelation he has a result.
Even though it is a free story, it has clearly been written and produced with care and I can't help but be very appreciative of that.
It's about 70 pages of yummy goodness – no doms, no kink, spies, billionaires or ingenues (all of which I have enjoyed and continue to enjoy from time to time – but sometimes it's just to refreshing and relaxing to read about everyday(ish) characters ya know?). It's a really nice story about two guys who belong to each other but take a long time to figure it out.  It's simple but it's done very well which makes all the difference. Also, did I mention it's free?
Grade: B