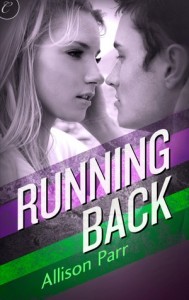 Why I read it:  I received a review copy from the publisher via NetGalley.  I enjoyed the first book in the series, Rush Me, so I was looking forward to what's next.

What it's about: (from Goodreads)  Natalie Sullivan is on the verge of a breakthrough most archaeology grad students only dream of: discovering a lost city. Her research points to a farm in Ireland, but to excavate she needs permission from the new owner: the Michael O'Connor, popular NFL running back.
On TV Mike seems so charming and good-natured that Natalie figures getting his cooperation will be a breeze. So she's not prepared to deal with the arrogant—and adamantly opposed—man she meets in person. Or the way one look from him sends shivers down her spine…
Determined to kick-start her career, Natalie travels across the Atlantic and finds herself sharing an inn with Mike, who has come to Ireland in search of his roots. She tells herself her interest is strictly professional, but the more she gets to know him, the harder it is to deny her personal attraction to the sexy sports star. And when Mike confides why he refuses to allow the dig, Natalie must decide if she can follow her heart without losing sight of her dreams.
What worked for me (and what didn't):  I enjoy this author's voice.  I like her wry humor and the easy style of the prose.  I find it engaging and easy to read, even when sometimes aspects of the plot work less well for me.  Here, I particularly enjoyed the romance between Natalie and Mike, as well as the descriptions of New York, Ireland and Paris.  The setting, most particularly, Ireland, was so well drawn.  Whereas some stories can really be set anywhere, here the sense of place was very strong.  And different enough to provide a nice change to the usual US setting.  Although it is a book about a running back for the fictional New York Leopards NFL team, there is almost no football in it (which wasn't particularly a problem, but if you're expecting a sports-themed book, you won't get it here).  Rather, it has an archeology theme – digging up the past in not only the physical but also the metaphysical sense.

When Mike refuses to sign the contract allowing Natalie and her team to dig at Kilkarten, Natalie's reaction made me smile and reminded me again some of the reasons why I liked Rush Me so much.
When Carthage fell, when Rome fell, bacchanalian chaos reigned in the streets. When Hailey's Comet streaked through the sky, people fell into the arms of strangers.
Since this was on a slightly smaller scale, I ran and watched cat videos.
When they both end up in the small Irish town of Dundoran (and are staying in the town's only Inn), Natalie becomes enmeshed, almost against her will, in Mike's family dynamics – some of which, hold the key to his refusal to allow the dig. Mike is a really interesting character.  I kept imagining him with an Irish accent (which was completely unsupported by the text BTW) because he was so charming and an Irish accent seemed to fit with that so well.  Mike's charm however, is his armor.  He wears it to keep people away and it doesn't take Natalie all that long to recognise it.  She is one of the few who do – who take the time and/or who are perceptive enough to do so.
From the back, a man detached himself from a clump of Guinness guzzlers. He was about my height and age, but he had thick black hair and dark eyes. Black Irish, they called it, Iberian blood. He shoved his hands in his pockets and sauntered over.
"Well." Paul Connelly had a low, lilting voice, and I immediately thought of Cam's Operation: Irish Boyfriend. "That didn't take very long."
Beside me, Mike relaxed very slowly. The great control that went into his apparent laziness was more alarming than if he'd tensed up all over. "'Scuse me?"
Paul propped his elbow on the bar and shrugged. "Seems to me you swooped right in as soon as you inherited some land."
Mike curved his lips up. "Actually, my uncle just died. I'm here for his month's mind."
"After twenty-six years of never even talking to the man?"
Mike relaxed his body even more, like he was lounging in midair.
The descriptions of how Mike used this relaxed, affable charm to put people off were so well done. It was something different to read about but so well drawn that I had no trouble imagining it.  It made Mike a much more interesting character.
In the end, the "secret" acting as barrier both to Natalie and Mike being together and to the dig at Kilkarten, fizzled a bit for me.  In my opinion, there was insufficient support in the text for Mike's reaction.  What he was worried about was a big deal but I didn't quite understand how he made the leap he did to get there.  There was also something about Mike's parents' relationship which was vaguely unsatisfying and not terribly detailed – so; unsatisfying on two levels.   Similarly, Natalie's relationship with her mother (in particular) was another 'digging into the past' theme in the book.  Again, I felt somewhat disconnected to this aspect of the story – I'm not sure if it was that not enough time was spent on it for it to grab me or something else, but, while I appreciated the themes, I was far more interested in Mike and Natalie and their interaction.
Once the "big reveal" about Kilkarten was done (a little less than halfway through the book), the barrier to their happiness is Natalie herself.  Natalie doesn't believe in forever.  Her parents were madly in love – enough to break up her father's first marriage – but now they appear to barely tolerate each other. She thinks about relationships in very logical terms – companionship and chemical interactions in the brain but she doesn't believe in "forever love".   For me, that felt a little disingenuous – because the sense I got from the book was more that Natalie was frightened to belong and put down roots, Perhaps that was because she didn't believe in forever but the example of only one couple seems fairly poor empiric evidence for so logical a methodology.
In Dundoran, at Kilkarten, she finds a place and a sense of herself and of belonging.  And in Mike, she finds that belonging as well as acceptance and passion.  The rest of the story is really about her finding the courage to trust in Mike and to forge her own path in the archeological world.  I'm not an archeologist but those parts of the novel felt authentic to me – they were interesting without being overly technical.  I enjoyed both the romance and the coming-of-age aspect (which was more about Natalie's career I thought).
The romance was intimate and sexy and, at times, fun. I thought it was about Natalie learning to trust and about Mike allowing himself to be known.
"I can tell the difference in your smiles."
He raised a brow. "You cannot."
"Yes, I can."
He smiled a slow, seductive smile, his eyes heavy. "Okay. So what does this one mean?"
It meant we were late down to breakfast.
There was quite a bit of humor in the story as well – some of Natalie being self-deprecating and some of it even poking in fond good fun at modern media and common consumption of it.
The parish priest—Father MacCarthy, whose nephew was one of the crew I'd hired—called for all our attention. I'd never heard of parishes outside of Austen novels—didn't Edward get a parish? Or Edmund? The Mansfield Park boy, whoever he was. And the dad in North and South had one, with Richard Armitage.
By Elizabeth Gaskell, I meant. Because I definitely thought about 19th century literature based on authors, not actors.
What else? There was something else in the story which struck a strong chord in me.  Something about dreams and giving up on them.  There are times when, no matter how much you may want something, it's just not going to happen.  The choice then, is to keep dreaming and lose the rest of your life in the wanting of something unobtained, or to change the dream or push the dream to one side to allow for a new dream and a new reality.  To give oneself the chance to enjoy what is. There is a bible story of the persistent widow.  She got what she wanted in the end.  I've always wondered though, what was she like to be around, to live with for all those years when her entire focus was on her dream?  It is a hard thing sometimes to know when to give up on or maybe, reconfigure a dream and when to persist.  And this book got that.

"He sounds—" A little like me. "Like a jerk."
She raised a brow. "Don't most people, when they're so single-minded in following their dreams?"
I blushed.
She shook her head. "There's a difference between having a dream and never waking up."
Grade: B