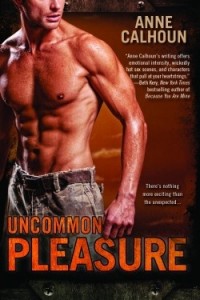 Why I read it:  I enjoyed Liberating Lacey and Breath on Embers (from last year's Red Hot Holiday anthology) and I'd heard good things about this book. I bought up an ecopy with a Kobo coupon recently. The next book in the series has just been released.  It is called Uncommon Passion.  I've heard great things about that one too, but I'm waiting for another coupon. 
I've also put a digital book from her backlist on my wishlist – On the Edge is a novella which features Ty (hero of the first story in this anthology) and John Langley and Lucy Malone.

What it's about: (from Goodreads)  From a "fresh and imaginative" ("The Romance Studio") voice in erotic romance come the tales of two women, each daring to challenge the boundaries of the toughest of men…But in these edgy, heated encounters, the greatest thing each woman will risk is her heart.
"Over the Edge," – after a tragic incident during Ty Hendricks' last tour of duty, he cut off all connection with anyone he cares about–until a night with Lauren Kincaid draws him reluctantly back into the world. Lauren sees a wounded man in danger of losing everything to his inner demons, but the sensual, no-holds-barred fight for Ty's soul could cost Lauren her heart.
"All on the Line," – Abby Simmons fell hard for Lieutenant Sean Winthrop, but he sacrificed their relationship when he deployed to Afghanistan. Now he's home, full of regrets and intent on winning back the woman he never forgot. Abby gives Sean her body but holds her heart aloof, until one night of pleasure forces her to choose either her U.S. Marine…or life without him, forever.
What worked for me (and what didn't):  Over the Edge is the first novella in the anthology.  Ty Hendricks is a roughneck working on an oil rig.  He was a Marine and served in Afghanistan.  His skill set is mainly around people management. He can identify where people work and fit best, when something is wrong and how to manage it, etc etc.  However, he has basically shut down as a result of PTSD following his last deployment.  He wants no emotions to creep in – both in his sexual liaisons and his friendships with former-Marine buddies John Langley (owner of Langley Security) and Sean Winthrop.  Lauren Kincaid is a petroleum geologist who flies out to the oil rig where Ty is working. Over the course of a few days on the rig, Lauren sees enough of Ty to become intrigued and desirous.  After they get back to the mainland, she propositions him and he, even knowing that there was no way it would just be an anonymous, meaningless hookup (no matter how hard he tries), accedes.  Lauren sees, she thinks, the man underneath the armour of disinterest and is curious to know him.  To her credit, Lauren doesn't think she can heal Ty, but she does see that he is in need of it and it takes a lot of effort on his behalf to successfully push her away.  When not working on the oil rig, Ty helps our his friend John in his security business. They had been supposed to open the business together but after events in his last deployment, Ty wanted to be separate from everyone and changed his mind.  Sean, also on furlough is also helping out and they end up doing some industrial surveillance in the same business park where Lauren is based.  The book was sexy and hot and I liked how sexually free Lauren was and how the story (both of them actually) was not at all slut-shamey. Both stories feature a menage even though the HEA is with just two people. In this one, Ty suggests a threesome to Lauren (with Sean) as a way of shocking her into leaving only to be surprised when Lauren not only says yes, but really gets into it.
Anne Calhoun has a way of writing erotic/sexy stories while revealing character and there was a kind of melancholy undertone to this novella, based around Ty's struggles.    I liked Lauren very much.  She was a very strong character.  When she stayed around, she did so for her own good reasons and when she walked away it was the same. She was no doormat and she even when Ty was trying to manipulate her into running away from him, she made her own choices for her own reasons and she never appeared weak or wishy-washy.  Ty's coping strategy was somewhat surprising given his natural skillset but at the same time, I could see how a man could shut down after what he experienced during deployment.

The second novella is All on the Line and features Sean Winthrop as our hero.  Returning to Galveston where his family is, after a deployment in Afghanistan, Sean is taking a month's leave before heading to Virginia to work with the Marines there regarding tactics etc.  When he was last in Galveston, some fifteen months before, he met Abby Simmons, a 23 year old fresh out of college and they had a scorching affair.  Sean then left for Afghanistan – a deployment he requested because he wanted to understand what it was like in the field in a warzone before taking up his post at Quantico.  He was the Lieutenant of the platoon and felt his responsibility keenly.  Five months after leaving, he sent Abby a four line email breaking up with her – partly because he was scared of his feelings for Abby and partly because he felt his relationship with her was a distraction which could cost lives.  Now back home, Sean has realised he made a mistake in letting Abby go and he's decided to win her back.  He proceeds with military precision; employing various tactics and adapting as the situation calls for in order to reach his goal.  This includes (at Abby's request) a threesome with Ben, a cop with whom Abby has had a fuck buddy type relationship with.  (Ben is the hero of the new book Uncommon Passion, which I understand is menage free). Abby is not the sweet, fresh-faced girl he left.  Her father is very ill and a terrible patient; she moved back home with him to take care of him, is studying because her liberal arts degree didn't land her a job and working to make ends meet at No Limits a local bar and hookup joint. She's exhausted and hasn't really had time to process the breakup with Sean, even though it happened nearly a year ago.  She's still very much in love with Sean but she doesn't trust him not to hurt her again.
There was a little stutter toward the end of the novella which felt emotionally jarring. I'm not sure I can explain it any better than it felt a little like I'd skipped some emotional development in the set up and there were a couple of things which seemed to suddenly appear and for which I wasn't quite prepared by the previous text.  It was about the emotion/tone of the story rather than anything else.  The "black moment"  felt a little… jagged I guess.  Ultimately, Sean learns that to win Abby he has to listen to her, to ask her what she wants and really pay attention rather than just forging ahead based on his own desires and goals.  This change in Sean did make me believe in their HEA and even though the transition from sexy story to more serious story kind of felt a little jumpy for me,  ultimately, I was very satisfied by the ending and how the couple negotiated their HEA.
What else? I really enjoyed this book.  The two novellas worked well for me here.  Ms. Calhoun writes short well, packing in lots of character development and keeping a tight focus on the story she wants to tell.  There was a bit of overlap in the timeline between the two novellas but it didn't feel like I was reading the same thing again for the time this occurred and then All on the Line took off its own way and was a story which had a distinctly different feel to it than Over the Edge. Anne Calhoun has become an autobuy author for me and I'm really hoping Kobo has a coupon I can use on her newest book soon.

Grade: B+